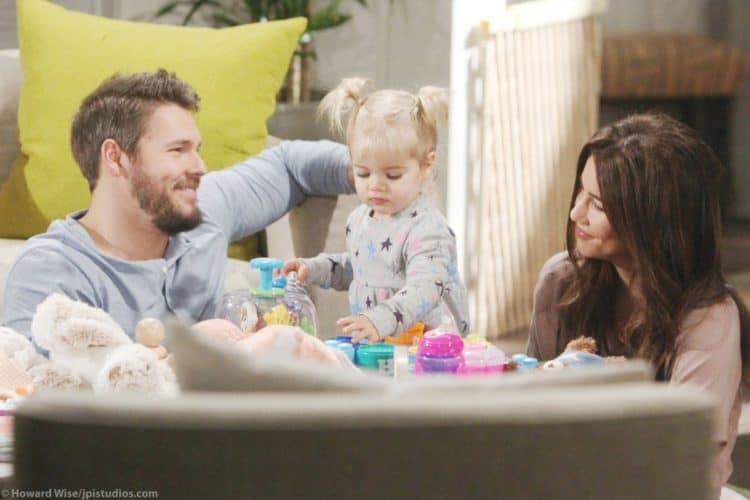 Bold and the Beautiful fans are well versed in the concept of big couples who do big things. But, that doesn't mean anything other than the fact that they are going to capture our attention and then bail on us when things get rough for them. We see them for what they are, which is a mess. They have too much drama, too much going on, and too much history with those around them. However, we have a feeling that some of them might just work out a little better if they just moved out of LA and didn't come back. Like, delete all social media apps, move anywhere else in the world, and don't bother coming back to town when things are getting rough. We think these couples have the ability to make things work long-term if they just did that. Let us know if you agree that these couples have a much better chance of making it work if they left town.
Steffy and Liam
If these two could focus on one another and their baby, they could have made this work. They love their little girl more than anyone, and they should have made this a situation. They could have moved to a fun city elsewhere, taken the time to raise their little girl without all the drama their families bring, and they would have done well. We can see them at piano recitals and dance competitions and honor roll award ceremonies, to be honest. They could have run their empire from afar while focusing all their time and attention on their family, which would have made things really, really good.
Wyatt and Sally
When these two were left to their own devices and Quinn was not all up in their business, they did well. They had so much going for them, and they were able to make things work well for one another. We think that they have all it takes to live a simple life in which he runs his business, she designs beautiful clothing, and they aren't bothered by his family. Hers ignores her and leaves her to her own devices, but his is just too much. They are happy when they don't let anyone else inside their bubble.
Ridge and Brooke
They aren't our favorite, but they could have made it work. They are another couple who could have simply moved away, focused on their life together, and ignored all other things. They could have had a chance to thrive had they done this. They could be so good together. They could be so good that they make it work for the long haul. If they get rid of all the people who interrupt their lives and get in between them, they could make it work for the long term.
Katie and Bill
These two have a chance to be happy, but it has to be without her sisters and without Ridge. If she can get rid of Brooke and keep her out of their life, they have a chance at making their marriage work. If she is gone and simply not a part of their life at all, he wouldn't think of her and make any effort to be with her. Brooke makes it hard on him when she's all up in his business and confiding in him and being around him all the time. It's impossible — not that it's an excuse — but they could do well without her in their lives ever again.
Stefanie and Eric
This didn't work for them. And, she's gone now. But, if things hadn't gone the way that they did and she hadn't passed on, we think that they had a chance of making things work. You see, we think that they could have gotten out of town and retired. We see them being big fans of those month-long cruises around the world where they simply live on a ship and enjoy the luxury of being taken care of all the time without any effort or any outside communication. We think that they would have thrived in a life like this one in which no one they knew could bother them — ever.