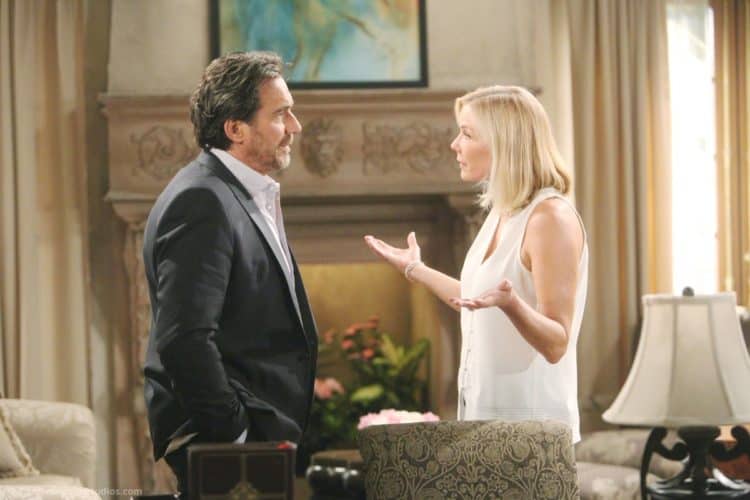 Bold and the Beautiful fans know that anyone who is happy together on this show is only happy for a short time. Their days are numbered, and they will be crushed and horrified and upset and not happy and mean and ugly. But, that's how it goes. No couple is ever safe. Some are just really bad for one another. But, some are just bad for those around them. You see, it's not always unhappy couples who are going to end. Sometimes, it's those who are happy with one another but realize that those around them are just unhappy with their situation that never work. Let's take a look at which couples bring out the worst in everyone else around them.
Steffy and Liam
Hope cannot stand it, and neither can Brooke. If these two were not in their lives, they would be very happy. That one time, though, Quinn and Wyatt were not happy with them, but she and Wyatt have learned they do not work — so Quinn is also now over this. But, Hope and Brooke cannot stand to see Liam with Steffy, and that causes a lot of problems for them.
Liam and Hope
Steffy was once someone who hated to see Liam with her, but she's gotten over that in the last year or so since her baby was born and she realized being a choice and an option was not her favorite. But, Ridge often has a problem with Liam and Hope because he would rather see Liam with Steffy. Thomas always has a problem with them, too, and their coupledom often brings out his very ugly nature.
Sally and Wyatt
Quinn hates them, but she's pretty much the only one until Flo rolled into town. When Sally and Wyatt are happy together, these two are always looking for a way to make sure it does not work out and that they do not have this problem with one another. They are always looking to end this for them, and we are not fans of that in the least. We like them, and we wish his mother and his ex would both back off.
Wyatt and Flo
They bring out the ugliest of the ugly in Sally, but we almost get it. She's a good person who was lost twice to this lying, manipulative, horrible woman who came in and stole a baby from his own family and then lied to everyone and caused divorces and hurt and so many broken hearts. Why does she keep losing to Flo when she's this monster that Wyatt refuses to see? We don't know for certain, but we know that Sally is better than Flo. But, Flo has brought out the ugly, horrible side of Sally she didn't want to let out. She's tired of losing, and she is making it a point to do whatever it takes to get what she wants. It's what everyone else in LA does, right?
Brooke and Ridge
They are not good together, but they are really bad for others. Taylor hates them. Quinn hates them. Bill hates them. Thomas hates them. There are more people who love to see this couple fall apart than there are people who like to see them together, and we belong to the former group. We cannot stand them together. We never got it, we will never get it, and we firmly believe all the people who dislike them would be so much nicer if this couple simply decided to back off and go elsewhere. Their imminent divorce won't last forever, unfortunately, but it will be something that pacifies us for a short time.
Bill and Brooke
They make everyone crazy when they are together. However, it's mostly Katie and Ridge who suffer when they choose to be together. And, honestly, it's usually because one of them is with the other when they decide to cheat with the other and make this situation. Katie is usually married to Bill when her sister, Brooke, decides she loves Bill and cheats. And Brooke is often married to Ridge when Bill decides he just needs to have her. They are bad for one another, but they are bad for everyone else, too.