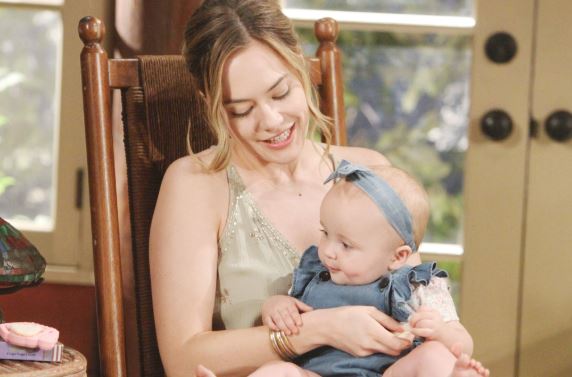 The Bold and the Beautiful fans know that Ridge is shocked to see a detective at his door to discuss what happened to Emma. He never in a million years thought that he would be answering questions about his son and his son's ability to murder someone and cause this much of a problem in their lives. He is a man who has a lot of issues of his own, but his father simply cannot believe he is a killer. He does not believe Thomas would do this, that he is capable of this, or that he would ever try to do something so awful. He's not that type, and we get that. We get that he thinks that this is the truth. We get that he is a man who hopes for the best, wants the most from his kids and his life, and that he is not happy about this line of questioning. But is there a part of his life where he is wondering if it might be a little bit true?
Hope, on the other hand, is doing everything she can to make her life work out in her own favor. She knows her baby is her baby, she still loves Liam, he still loves her, and they still have this together. They are going to have their family, even if things are happening a little bit late. She's annulling her marriage to Thomas, which we know is going to set him off the deep end. He still thinks there is a chance she will forgive him and that she will stay married to him. She was very honest with him when she said that he was not someone she married for love, nor was she over Liam in any capacity.
What's Happening on the Bold and the Beautiful
Should Hope forgive Flo? #BoldandBeautiful

— Bold & The Beautiful (@BandB_CBS) August 16, 2019
We have to say that we are shocked that many people voted yes, that Hope should forgive the woman who stole her baby and let her think she died at birth while watching her stepsister raise her as her own.
What's Next on the Bold and the Beautiful
No apologies and no second chances. No one will believe how this week ends on #BoldandBeautiful! pic.twitter.com/1COeUvtTDn

— Bold & The Beautiful (@BandB_CBS) August 18, 2019
Thomas is not going to be a happy camper when he learns that his wife is doing all she can – right now – to annul her marriage to him. He lied to her. He kept this secret from her, and he made her marry him under false pretenses, and she has no intention of being his wife after his. But, we can see that his temper has grown to the point of awful over the years, and this is that terrifying moment we think that he might harm his son. Will he do it? Will he make that move? Will he do anything that might hurt his chances of becoming a father and being the right kind of guy? We can't tell, but we do worry that there is a chance he might. He might harm him, and we cannot handle that idea.
Additionally, we think that both Brooke and Liam are concerned that Thomas will do anything in his power to get Hope to stay with him. They recognize that he is not currently in his right frame of mind, and that they have to do something about this to make it better. But, what can they do to make this work, and will it actually work? We cannot be sure, but we know that they are a mess. We know that they are not living their best lives, and they have to do anything they can to protect her from him. Can they, though? Or will he continue to harm their family more than he already has?
Stay tuned for more The Bold and the Beautiful and be sure to check out TVOvermind daily for the latest The Bold and the Beautiful spoilers, news, and updates.