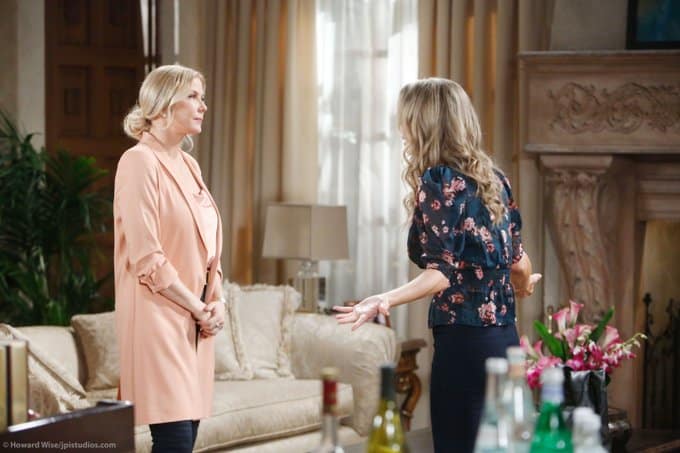 Bold and the Beautiful fans are not surprised that there is video of Brooke and Bill and their clandestine moment. We are also not that surprised that someone caught them and saw the video, but we are surprised that Donna is being so cool about this. She's not usually the type, but she does know that Katie needs to find some peace and some happiness in her life, and that is not going to happen in the midst of her recovery if her sister is making out with the man who claims to love her and only want to be with her, and who says his only goal in life is to help her love him and to be there for her and their son. He's clearly lying – but it's Bill and Brooke, so there is not one of us shocked by that. And now Donna has to choose. We know that she's not protecting Brooke. She's protecting Katie.
Of course, that is not a thing that will stop these two. Brooke will assume that her sister is protecting her and keeping the secret from Katie to keep the family peaceful, and she will continue on with her horrible games and her awful lifestyle. We think Quinn knows, though, and that it will be a situation. Flo has decided that she wants to make things right with Sally, so she's done so against the wishes of Katie. Now she feels that Sally is up to something not good at all, and she is about to see things unfold. She's going not make this entire situation worse than she's already made it, and now we have to sit here and watch the demise of all the things that are going on. It is nothing short of almost entirely painful to watch.
What's Happening on Bold and the Beautiful
Donna is stunned when she inadvertently becomes witness to Brooke betraying Katie. WATCH FULL EPISODE: https://t.co/RGlEM0o5t3 #BoldandBeautiful pic.twitter.com/1WxvNyTVuf

— Bold & The Beautiful (@BandB_CBS) March 23, 2020
As she should be. Her sister should be ashamed of herself.
What's Next on Bold and the Beautiful
The secret is out, and Quinn's blackmail has just begun! You won't want to miss #BoldandBeautiful this week! pic.twitter.com/2fYcrZSFPi

— Bold & The Beautiful (@BandB_CBS) March 22, 2020
We knew that Quinn had to know about the video. We knew it. She always has information like this, and now that Brooke thinks that the video of herself kissing Bill has been taken care of, Quinn is going to make sure her adversary knows that this is not the case at all. She does want Brooke to know that this is something she has, and she wants her to sweat about it for a while. She wants her worried and upset and not happy about the way things are going. She wants to make sure this woman is going to get what is coming to her, but not before she uses this to take the joy right out of her life for some time. We are here for it, too, because we just cannot get on board with Brooke and Bill right now.
There is a small situation in that Brooke and Ridge have already decided that today is the best day ever to throw a party. And not just any party; a reunion party. The party that they are using to show their friends and family that they are happy and that they are looking to spend their lives together again. It's a reunion party, if you will, and one very important guest will not be there. That guest is Brooke. It's her party, but she has some damage control to focus on, and Quinn is going to make sure this doesn't go well for her. This is a problem for everyone who knows.
Stay tuned for more The Bold and the Beautiful and be sure to check out TVOvermind daily for the latest The Bold and the Beautiful spoilers, news, and updates.