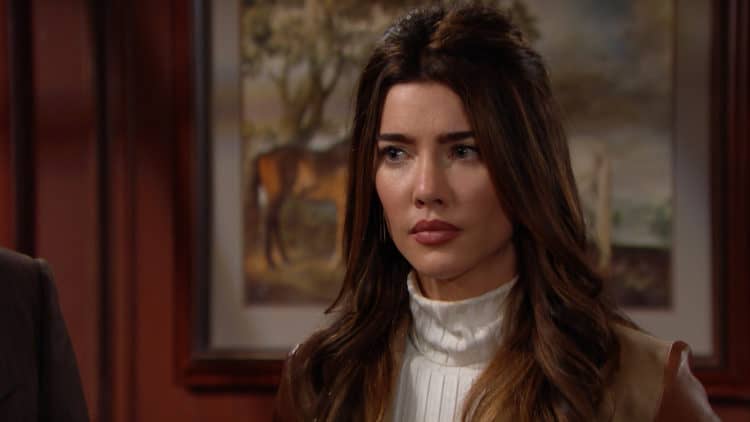 Bold and the Beautiful fans were not happy that the show did not bring a new episode on Christmas Day, but we all love a good encore that we have not seen in a long while. We do love when things work out for us, and we did see a bit of that this week. The beginning of the week did bring some new information and new episodes, and that's a good thing. We did see Thomas continue to get his way with the family when he called a meeting. We did see him make some changes to his life by pretending to have feelings for Zoe. It really did make Hope miserable, and now she is wanting to spend more time with him and things are turning around for him. Brooke came to Steffy earlier this week with some problems and the desire to fix them, but that didn't go well for her either.
She was ready for a fight, but Steffy shut that down right away. There is nothing that will change the way this game is played, but we can see more players come into the game. Brooke is happy that Thomas is going to be taken down and that his own sister is working to make sure of that, but we don't know what else to do with this information. Do we really think she will betray him if it comes down to this? Will she really make this much of a change in their lives? Will she really do things that are not good for her family and her friends, or will she actually make the effort to do the right things around here? We cannot decide but we do know that this should be some good stuff, and it might just be what we need to hear.
What's Happening on Bold and the Beautiful
SNEAK PEEK at #BoldandBeautiful Next Week: Steffy lets Brooke in on her and Liam's plan to use Zoe. Thomas tells Hope he intends to prove to her that he's a changed man. Brooke confronts Liam as to why he didn't tell her about the plan. Thomas sets a romantic setting for Zoe. pic.twitter.com/U0m67cR1Ia

— Bold & The Beautiful (@BandB_CBS) December 20, 2019
These photos are perfection.
What's Next on the Bold and the Beautiful
https://twitter.com/BandB_CBS/status/1208764127444963329?ref_src=twsrc%5Etfw
Hope has made the decision to let Thomas work on her line with her. She is off pretending that she feels as if she has no choice in the matter and things are not what they seem, but we know a lot better and a lot different. She has a choice, but she doesn't want to make that choice. She wants to be there to work with him so that she can learn as much about his feelings for Zoe as she possibly can. She wants to know more and be more and have more than she's letting on, and she's not going to stop until she gets all that she is looking for. In the meantime, she's also going to pretend this is not something she wants. He's aware that this is exactly what she wants, though.
Brooke, on the other hand, is not going to be very happy with Liam today. She's not happy that he and Steffy are working together to expose Thomas and that they chose to leave her out of it. She's going to let Liam know that this is not okay with her, that she is not happy about this, and that she is living her life with a long list of things that need to be done outside of what is going on. She's going to make a mess of things, too, and that is what she is good at. We cannot wait to see her mess this up and look for someone else to blame it on.
Stay tuned for more The Bold and the Beautiful and be sure to check out TVOvermind daily for the latest The Bold and the Beautiful spoilers, news, and updates.