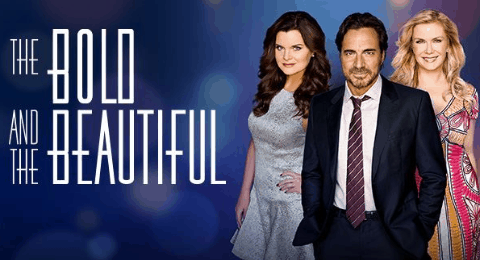 Bold and the Beautiful fans love this week with all the crossover situations that are happening this week. To have the people from Genoa City over here to work with the LA cast all week is such a fun thing to see, and today is not an exception to that rule. Today, we take it back to 1999. It's the day when Brooke is using Victor Newman, who is in town, to make Ridge jealous. They're out to dinner doing some business with one another, and she's doing all she can to make sure that he feels that she's taking it up a notch with Victor. She's being petty and jealous and low. Of course, Taylor is doing all she can to make sure that Ridge – her own husband at the time – is not paying attention to Brooke, but that's all he is doing. He cannot take his mind or his eyes off of her. When he happens to see that Victor has a little kiss for Brooke at the end of the night, he takes it upon himself to confront Victor and tell him to get his life together, get out of town, and leave her alone. This doesn't make anyone feel very happy. Taylor, in fact, is more than a little embarrassed. But, it makes us want to talk about how many things are wrong with this situation.
Grown Adults Using Jealousy
We want to take a moment to talk about this. This is a situation in which grown adults are doing the most childish things to one another. There is a small thought that crosses my mind here….who does that? It tells us that there is very little about Brooke that really is ready to have an adult relationship at any point. If she feels she has to make another man jealous by using an entirely different man to do so, we cannot get on board with that one. We cannot do it. Nothing about that says that they are good together or that they are going to work out. It just says she needs to grow up a bit.
Ridge Cared Too Much
The other problem that we have is that Ridge clearly cared too much what his ex was doing with her life, which also tells us that he wasn't ready to marry Taylor and have a life with her. Had he been ready to be with her, this wouldn't happen. He wouldn't mind seeing his ex with another man because he's in love with his wife and that's where his mind and his heart and his eyes are. It also tells us that he, too, wasn't ready for anything like that. It's just something that needs to be said, honestly. You cannot be in a marriage with a woman if you're thinking about another woman and hate seeing her with another man. It doesn't work that way.
Taylor Puts Up With It
The other, and final, problem we see here is that Taylor seems to care entirely too much about this. Of course, she should. But, the problem is that she's putting up with it. She can see it, she knows it's happening, and she knows that things are going on in her life that aren't the most amazing. Yet, she's still over there doing this and making it a thing. The fact that she didn't just tell this man to cut it out and walk away right then and there is a situation all on its own. She's someone who should have done just that. She should have asked him to stop, to put himself in her shoes, and she should have asked him how that would make him feel in the same situation. She should have then given him a choice. Either let this go right now and remove this woman from your life in all ways, or he could tell her right then and there his feelings for his ex were too strong and she should have asked him to leave right then and there. It's a whole situation that is just not one we think is something she should be dealing with in her own marriage.