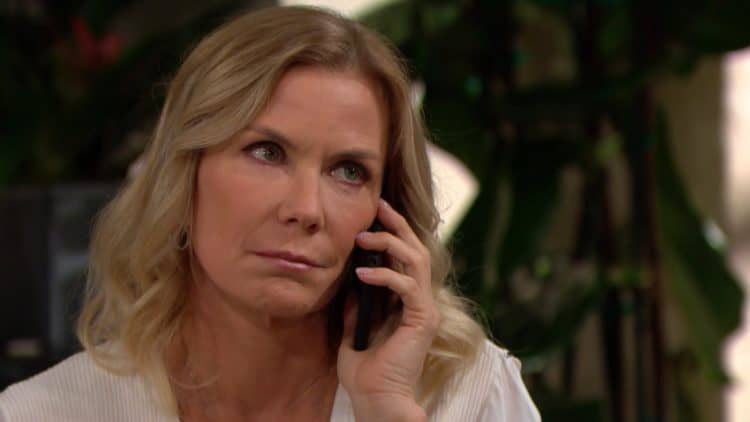 Bold and the Beautiful fans are looking at Shauna with some serious question marks. She's a woman who knows what she wants, but a married man should never be what anyone wants. Nor should a married man be that happy to spend time with a woman who is not his wife. It's not all right with us, and we think that they need to back this off while he either fixes his marriage to Brooke and works on things with her or while they decide to end their marriage and go their own ways. She did not even go to the party her in-laws threw because she didn't want to be around Thomas and those who hurt her kids. She's not supporting this, and she didn't even support her daughter showing up to try and get Thomas to sign over his custody papers of his son to her. She really thought she could get him to do it, but he's more cunning than she is, and he will always be that way.
Meanwhile, we know that Liam is not happy with Hope, and he went straight to Steffy about it. He took his daughter, Beth, to spend the holiday with her sister, Kelly, his other daughter. And Steffy was Beth's mom for so long, and she is so happy to see the daughter she lost. She is horrified that they have to sneak around to do this, but she's happy her baby is here to spend the evening with her and her other daughter. She's feeling good right now, like a little family, with the girls and with Liam. We worry this might make her want to be with Liam so that she can have half custody of baby Beth in her own right. Will this happen?
What's Happening on the Bold and the Beautiful
When you try to make a family Halloween video, but someone just wants candy. 🍬 Happy Halloween from #BoldandBeautiful! pic.twitter.com/7bDkmufEqg

— Bold & The Beautiful (@BandB_CBS) October 31, 2019
We love this.
What's Next on the Bold and the Beautiful
Beware of things that go bump in the night! 👻 You won't want to miss a minute of #BoldandBeautiful this week. pic.twitter.com/1eVSw6VMqN

— Bold & The Beautiful (@BandB_CBS) October 27, 2019
Steffy and Liam are in heaven as their daughters are together. They are spending this evening together with the girls, and it's a beautiful moment for Steffy. She still considers little Beth her own baby since she did adopt her as an infant and raise her all this time. And they are both Liam's daughters, and he is crazy about both of them. This is a moment that is nothing short of sweet and beautiful, and it almost – read, almost – makes us want to see the four of them together as a family forever. We know that Hope is the mother of this baby, but if Liam leaves her and comes to be with Steffy, he can have both girls and she can have both girls, too. This might be what Steffy wants, and she might try very hard to make this happen. It's the only way she can still be this baby's 'mother' now that the truth came out about her real mother.
Then there is Thomas and Douglas and their conversation with Hope. They have some questions for her. She's working so hard to dupe Thomas into giving her custody of his son, and she's willing to lie to him. But, she is not willing to lie to Douglas, but that's what Thomas is asking of her. He wants her to tell the boy all the things she told him that entail their future together as a family because he knows she's lying and that she will not lie to the boy and get his hopes up about his future with his real father. Thomas will always outsmart her in this capacity. He's bad. She's not.
Stay tuned for more The Bold and the Beautiful and be sure to check out TVOvermind daily for the latest The Bold and the Beautiful spoilers, news, and updates.