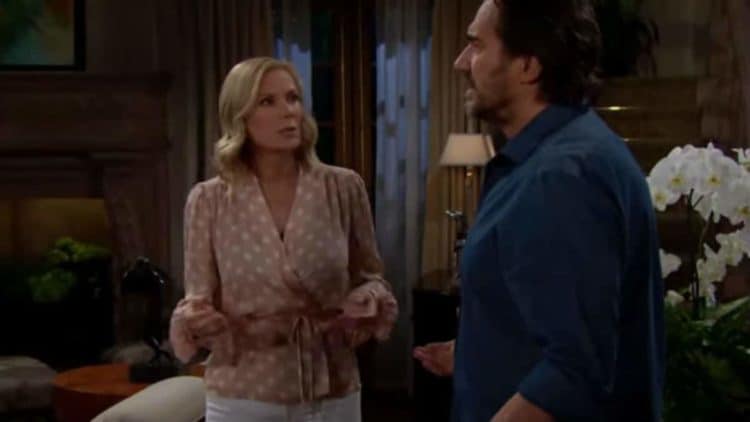 Bold and the Beautiful fans are always looking for a way to make the world feel like a better place, and we think that crossover week is making it just that. We are thoroughly enjoying the many things we get to see now that we see our favorites from the Young and the Restless rolling into LA to mix and mingle with the Bold and the Beautiful cast. It's been good times, and we are big fans. Of course, today is going to be a very good day. It's taking us all the way back to 1998. It's hard to believe, isn't it, that 1998 was 22 years ago? Either way, Jack Abbott is in town, and he's hanging with the Forresters. He's on his way to meet them at the office to discuss some business, and he's got it coming. Brooke's annoyed because Ridge is with Taylor, but he's worried that the meeting might take too long and he will miss the party one of her medical associates is throwing in her honor.
When Ridge and Thorne work with Brooke to work through a proposal that will take the Jabot and Forrester families into a whirlwind relationship, things are keeping Brooke distracted. Sally, of course, and Darla aren't happy about a few things – and they are doing all they can to ruin it. This means crashing a gala and trying to see Macy. Stephanie is going to get the good Dr. James Warrick to crash with her as she feels the man throwing the gala has some feelings for Taylor. Since she loves Taylor and wants to continue to keep her in her life rather than Ridge being with Brooke, she needs to do all she can to score an invitation to this party to make sure this man keeps his hands off her daughter-in-law. All in all, this makes us wonder. What would happen if we saw a few romances between these families and their cities? Let's look at who might make a good team.
Jack and Brooke
We almost think they would be fabulous with one another, but for reasons completely different than what you might assume. We don't think that Brooke would ever keep Jack happy what with the concept that she is always looking to see that Ridge is going to come back to her, but we think they are just as ambitious as one another. He might not make her happy with the idea that he's just not into her drama the way that she is into her own drama, but this might work for them for a fun moment. They might make it entertaining, if nothing else.
Ashley and Eric
She loves herself an older man, and we'd love to see her take on the role of fashion matriarch in another family. She's a little too dramatic, but Eric tends to go to that extreme when he goes his own way with the ladies in his life. He's a man who likes a woman who causes some problems, and we are not down with that in any other capacity. It works, but it's not the best of the best in every manner. However, we think that it might just work for them.
Jack and Steffy
There is a huge age difference here, but we think that this might work for them. She's into older men sometimes, and he's into women who are ambitious but not too dramatic. Now that she's a mom, she's grown out of a few of her more dramatic moments, and that might just be appealing to her. She could help him with the business, and she could keep people in the business on their toes, and it might just work. Honestly, he could use a young person who has some big passion for the business but isn't off dealing with the dramatics of their young lives to help him out. Because Summer and Kyle haven't had a chance to grow up yet, but Steffy has done quite a bit of that in the past few years, and we do think that it might make an odd but rather workable match. Or, it might just be entertaining enough to keep us watching.