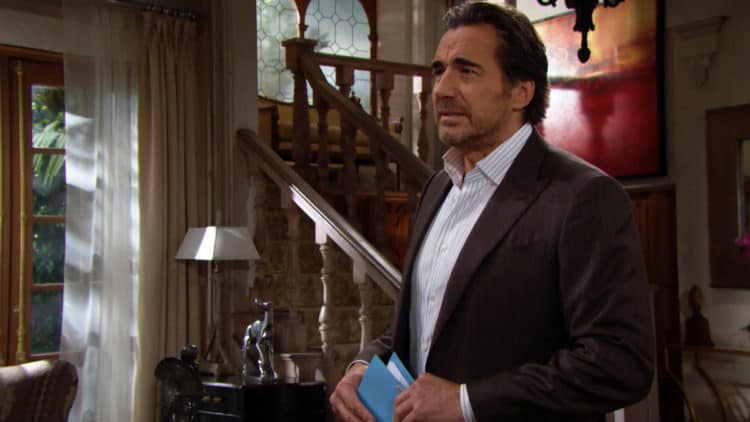 Bold and the Beautiful fans know that Shauna is one who does like to keep things out in the open as much as she can when she feels that they are good enough to get her what she wants. But, she's also the kind of woman who will keep it all to herself if she feels for even a second that things are not going to work in her favor. She's done this many times in the past, and she's not done doing it right now. She's got something on her mind, and she's not going to let it go. She's finding herself in the situation of comforting Ridge each time his wife tells him that she is done with their marriage, and this is yet another time. She's given Ridge a list of demands that will make it impossible for him to make his marriage work, and she is not willing to sacrifice anything in the process.
But Shauna has some interesting news for all of them. There is really nothing that will change the way things are going, but there is so much more than meets the eye. She's shocking him, and that's all there is to it. For now, though, we will also see that there is a situation with Thomas when he is trying to convince Hope that she needs to work with him, and she's not sure what he wants to do. There is a lot going on, and there is a lot happening, but she is ready to go to work again. She's missed it, and she's finally feeling as if things are working out for her, too. She will not take this into consideration lightly, but she might just make things feel a little more complicated than they need to be right now.
What's Happening on Bold and the Beautiful
Together or apart, this love will last forever 💙 #BoldandBeautiful pic.twitter.com/fXxD7rh9qB

— Bold & The Beautiful (@BandB_CBS) December 9, 2019
Honestly, we like them apart.
What's Next on Bold and the Beautiful
Liam is skeptical of Thomas' motives this week on #BoldandBeautiful. Tune in to see what happens! pic.twitter.com/mN0L5HeAVS

— Bold & The Beautiful (@BandB_CBS) December 8, 2019
Steffy and Hope are not friends. It's safe to say that even on their best days, they've never really liked one another. They have always wanted the same thing. They have always fought over the same things. They are in the same line of work. They were always into the same man. They have always been nothing short of total competition for one another in every manner of speaking, and they will never get over that in their personal lives. It means that they will decide that the best way for them to make a change in their lives right now is to find out how well they can do if they compete in a fashion show. They will do this, and they will see who wins and gets to do what they want to do in life. We assume this is not going to end well for anyone, and we can be sure that it will not end well for Hope.
Then there is Liam. He's about to learn that his brother's engagement to Sally is not in a good place, and that their relationship is struggling. He didn't know, and he will be shocked to learn what happened. Will he be a supportive brother and do the right thing and tell his brother to forgive her, marry her, and be there for her, or will he encourage him to move on and not marry her? We are not sure that this is going to be something that ends well, and it makes us sad because we love Sally and Wyatt so much in their relationship.
Stay tuned for more The Bold and the Beautiful and be sure to check out TVOvermind daily for the latest The Bold and the Beautiful spoilers, news, and updates.