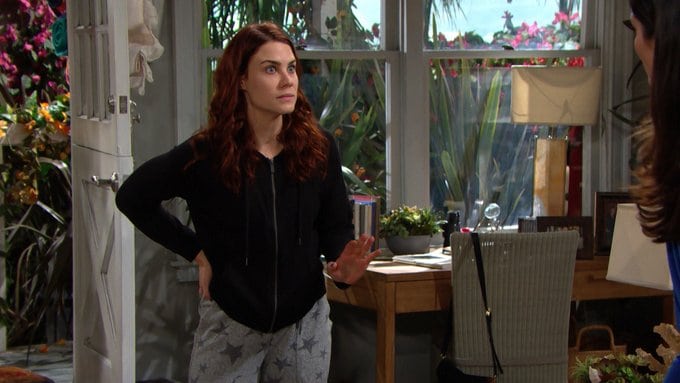 Bold and the Beautiful fans want some answers. We did get to see a pretty cool episode yesterday when things were taken into a new way of looking at the show. The "Becoming Bold and Beautiful" part one documentary was a fun thing to see. To see how things work and how they are made and what goes on behind the scenes and how it all works out is pretty cool. We never really put a lot of thought into things like this, but to see the way that things work is something we are excited about. This is a show that we've been watching a long time, but it's not quite the same as all the others. It's not a show that's on for an hour every day. It's been more than three decades of watching this show for a half hour, which means roughly 20 minutes of the show a day. To see what's up behind the scenes is a lot of fun.
To continue to recap last week, though, so you don't lose what happened, we are going to go further into this wondering what is going to happen with Flo and Sally. Sally and Dr. Escobar accidentally knocked Flo out and made her pass out, and now Wyatt is on his way home and will find them if they don't act — FAST. But, will this turn into something bigger than it is, or will we find something that makes more sense when we know that things are going down? We can't wait to see what is going to happen with this, and if Wyatt will make some of his own decisions for once in his life or if he will continue to look at things form his own point of view without a decision.
What's Happening on Bold and the Beautiful
RT if you're excited for "Becoming Bold and Beautiful." These documentary-style episodes on Monday and Tuesday feature rare, behind-the-scenes footage of cast and crew in Monaco and have never been seen before on @CBS! #EscapeToMonteCarlo starting tomorrow on #BoldandBeautiful. pic.twitter.com/UIweWqcnQ1

— Bold & The Beautiful (@BandB_CBS) April 26, 2020
These are so good.
What's Next on Bold and the Beautiful
Escape to Monte Carlo next week with #BoldandBeautiful! Experience all of the glamour and exclusive behind-the-scenes moments in a special week of thrills and romance. ✨ Don't miss it! pic.twitter.com/hO65Hqla2y

— Bold & The Beautiful (@BandB_CBS) April 24, 2020
This is going to be another day and another 20 minutes of what happens in the world of Becoming Bold and the Beautiful. The show we watched yesterday was the first part, and today is the second part. This is a show that is part documentary and part reality show, and we appreciate that very much. We know that this is the final part in the documentary, and we are excited to see more about what is going on behind the scenes and how it all works out for all of us. But, we also want to see more of a few other things, too. We want to see more of what will happen when things take a toll on everyone else. At the time of writing this, we have nothing other than the fact that there is going to be a second part to this documentary. We don't know what else is going on this week.
Will there be more new episodes anytime in the near future? Will they make Wednesday and Thursday both days when we get something new that we haven't seen before? We all know that Friday is flashback Friday, but will we see something that coincides with that every single day, or will we continue to see random old episodes? We cannot decide, but we don't want to speculate too much. We want to know if there is anything we can hope for in terms of getting some answers or at least seeing Wyatt make up his mind about what he wants to do, but we don't feel that we are getting too much yet.
Stay tuned for more The Bold and the Beautiful and be sure to check out TVOvermind daily for the latest The Bold and the Beautiful spoilers, news, and updates.