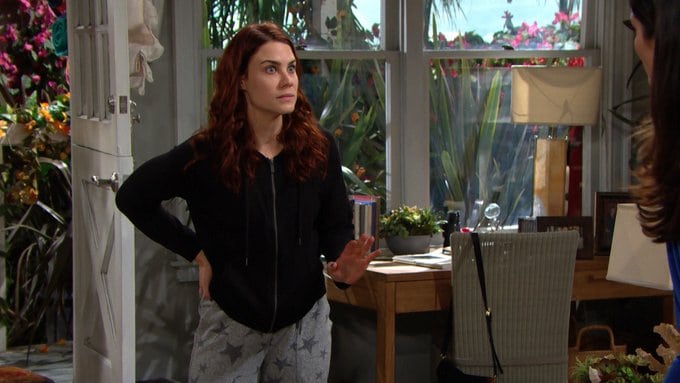 Bold and the Beautiful fans knew that last week would drag on with one of the same story lines we've been seeing for months. Does Wyatt go with Sally or go with Flo? The only difference right now is that he already chose Flo, she asked him to pretend to dump her and go live with Sally since Sally was dying and she didn't want her to die alone. But, now Flo is not sure that Sally is dying, she wants Wyatt to end things with Sally and ask her to move out of his home, and she wants to move back in. But, he's not sure this is what he wants in his own life. He wants to be with both of them, and that is not something that will change. So, he's asked Katie. Katie does not think he needs to end things with Sally.
Even his own mother agrees with Katie, and that never happens. His father is in a mess of his own, but he was able to offer Wyatt some advice about what he knows, which is how badly he's hurt women in his life and how much he regrets it. He's hurt Katie more times than he can count, and that led them to discuss how Wyatt has repeatedly hurt Sally because of Flo, and is that worth it to him? And, then there was the fact that we left the week with Flo being knocked out by the good doctor and Sally while Wyatt is on his way home, and they are not sure how this will end and what will come of this when she wakes up and tells him what they did to her by mistake. This should be a good way to go into the new week, though, and we are excited.
What's Happening on Bold and the Beautiful
Don't miss one of @TheCourtneyHope's favorite episodes to shoot tomorrow on B&B! #BoldandBeautiful is kicking off "Escape to Monte Carlo" week early with an encore episode of the Forrester and Spectra rival fashion show. ✨ Make sure to tune in! pic.twitter.com/UXsLMek4T3

— Bold & The Beautiful (@BandB_CBS) April 23, 2020
This is solid gold.
What's Next on Bold and the Beautiful
Will #Batie stay together? Tune in to #BoldandBeautiful this week to see what happens next! pic.twitter.com/l2B5ECOJ9r

— Bold & The Beautiful (@BandB_CBS) April 19, 2020
This is going to be an interesting and very short week for the show. Instead of a new episode today, the network is airing part one of a two part series that will change the way you look at the show from this point on. This is a situation that we didn't see coming, but we aren't too mad at it. They are making a situation for us to enjoy while also prolonging all that is going on otherwise. This part one is a documentary type of situation. They are going to show how they are 'Becoming Bold and Beautiful' and that's going to be interesting. Our thought process is that they are going to show the way that they do things behind the scenes — but we just don't know. We can only speculate as we have no idea what this entails. We have a feeling that this is what it is.
We might see things like how they make the show, how they figure out who will be on the air, how they write the plots, and what goes into making the show behind the scenes. Makeup and hair and time on the set, they might show the cast learning to remember their lines and their places, and they might share a few insider tips and tricks and stories that we've never heard. We don't know what they mean by this, but we are excited to see it, and we hope that we get to see a few things that we've never seen before. This is exciting, but it might also mean that we want more of it.
Stay tuned for more The Bold and the Beautiful and be sure to check out TVOvermind daily for the latest The Bold and the Beautiful spoilers, news, and updates.