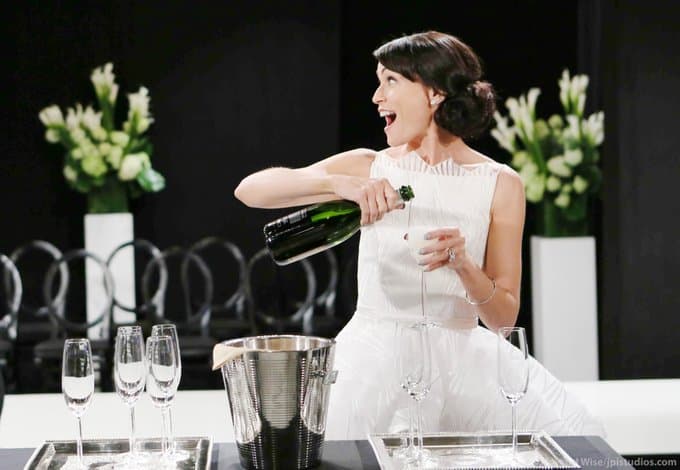 Bold and the Beautiful fans were so excited about the first day of Rivalry Week. It absolutely did not disappoint anyone. Day two is already shaping up to be even better. This is the week in which we will see things unfold for Liam and Hope, and it's also Aspen Fashion week. The entire bunch is out of the city again for so many fashion shows. This was a time when Bill was not happy that Liam was with Hope. She and Liam said their goodbyes, and they were going their own ways. However, Bill was already working on his plan of attack by letting the press call her names after a story leaked about her. They didn't know that this is what was happening, but Liam and Steffy were also in a place where they were able to carry on a conversation about their own time in Aspen. They did, after all, get married there. That makes us want to delve into Hope's background a bit and see what made her who she is.
She's Not Like Her Mother
We sometimes wonder if her failed relationships and the drama that she causes in her own life — the drama she doesn't even seem to realize she creates — is a result of things that her mother did to her as a child. She is the daughter of Deacon Sharpe, who was married to her sister at the time of her conception. That is not a good thing, and she did make it very clear as a young adult that while she loves her mother, Brooke Logan, she's not looking to be anything like her at all. She didn't want anything to do with her lifestyle, and she chose to become a very conservative young woman. We like that about her, but we often feel that her own desire to be nothing like her mother has made her so much more like her mother than she should be comfortable with.
She is, after all, in the middle of a long-time love triangle with Steffy and with Liam, and that's very similar to her mother and to her situation with Steffy's mom and with Ridge. She has baby daddy issues, she has cheating issues, she has other men issues. She's a young woman who is very much like her mother. She also believes that all of her shortcomings and flaws are a result of what is done to her and what happens around her rather than her own personal choices.
Her Relationship with Liam
She met him shortly after she realized her high school boyfriend slept with her mother, by accident at a masquerade ball in which they both thought the other was someone else. Oliver thought her mother was Hope, and Brooke thought Oliver was Ridge. Obviously, we don't get that. But she was having a very hard time with the fact that her boyfriend slept with her mother thinking it was Hope when she'd made it clear time and time again that she was not having sex before marriage — let alone in high school.
She met Liam, and they become friends. He would later learn he is the son of Bill Spencer, and that would not go over well with anyone. However, Oliver is not stupid, and he can see that they are more than just friends. That's when they fall in love, and that's when he becomes an object of Steffy's desires. We don't say affection — yet — because that was back in the day when she only wanted the things that Hope had first. So, it was hard on Liam because Steffy is amazing, too, and he fell hard for her. Steffy also fell hard for him, and they were actually married first. That was his first wife, and Hope has only ever been his back-up plan from day one. That's been hard on her, and she knows that his family doesn't want them together. They all prefer Steffy, and that's something she has had to live with for a very long time. She's never 'won' in this situation, considering Steffy is his all-over first. First wife, first baby's mother, etc. It's been a long road for Hope.