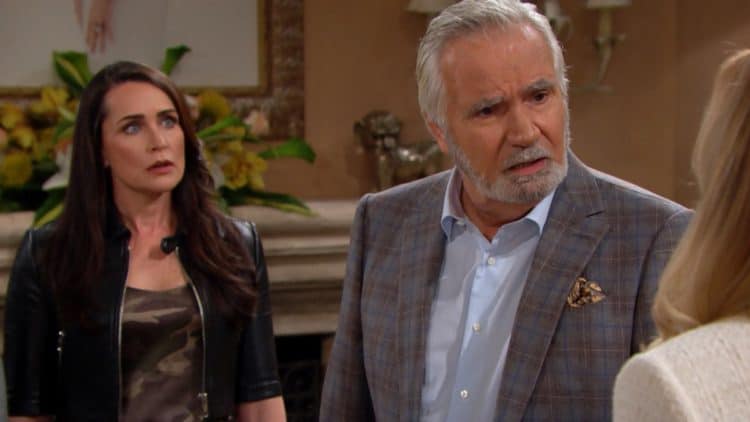 Bold and the Beautiful fans know that Quinn is not a happy camper, and that it is her own husband that has given her the news that has upset her the most. He's the one who had to come and tell her that the friend she had her entire life and lost connection with until only recently is in trouble. She's been blackballed from her home and the friends she's decided to make since moving here, and all because Brooke hates her. She hates her because her husband was kissing Shauna when he and Brooke were in the process of filing and signing divorce papers when they could not find a common ground over their kids. Things turned very ugly, everyone was very upset, and things were not going well for anyone. It's an ugly time for them, but Quinn is doing all she can to make sure that her friend is not treated this way.
She let her husband know that under no uncertain terms will she back down from Brooke and her nasty behavior. She will not do it. She cannot do it, and she will not be there for her other than to make her miserable. Thomas is going to let his sister know that if she even things about letting Liam know that this kiss she shared with him was Thomas' doing, he will make sure he ruins her life for good. It's the only thing keeping Liam from Hope right now, and it's the only thing that's making her run to Thomas for come comfort and someone to take her side. His plan is working precisely how he envisioned it would work, and he has no desire to sit back and allow anyone else to be there to get into his way about any of this. He's done.
What's Happening on Bold and the Beautiful
Here's how to watch today's episode of #BoldandBeautiufl on @WLTX, @KHOU, @WLKY, @NEWS9, @KENS5, @NC5, @CBS6, @WTKR3, @3NewsNowOmaha, @wane15, @KDKA, @News_8, and @KMOV: https://t.co/vGG0msXOv7 pic.twitter.com/kT4POAN3Wj

— Bold & The Beautiful (@BandB_CBS) January 28, 2020
More pre-emptions.
What's Next on Bold and the Beautiful
Sally confides in Katie this week on #BoldandBeautiful. Don't miss it. pic.twitter.com/3Qc1iqFK3H

— Bold & The Beautiful (@BandB_CBS) January 26, 2020
Sally has never been less happy in her life, and she's got to do something about it. She's got a lot going on in her life, and she's not sharing all of it with Wyatt, either. She keeps fighting for him even though she knows she's lost him, and that's a situation she cannot seem to remove herself from. She wants to do better, and she wants to find happiness, but it does not seem to be working for her right now. She's a mess, she's got a lot on her mind, and she's so unhappy with so many things. But, she's going to take some time to herself. She's going to be a bit selfish, and she is going to put herself first, put everyone else last, and she's going to try and figure things out.
She's a woman who has some issues, but she's not letting anyone else take her down. ON the other side of things, there's a lot happening right now with Quinn. She's sharing with her husband that she absolutely does not care how much he cares for Brooke, she's done with her and will not back down to her, and she absolutely will take her to battle on all that is happening right now. She's not afraid, and we love that about her. We cannot wait to see this epic war finally start to wage, as both of these women are sneaky, vile, and very much underhanded when it comes to getting their own way and what they want from life. Few things are better, really, and we cannot wait to see them all take the shot.
Stay tuned for more The Bold and the Beautiful and be sure to check out TVOvermind daily for the latest The Bold and the Beautiful spoilers, news, and updates.