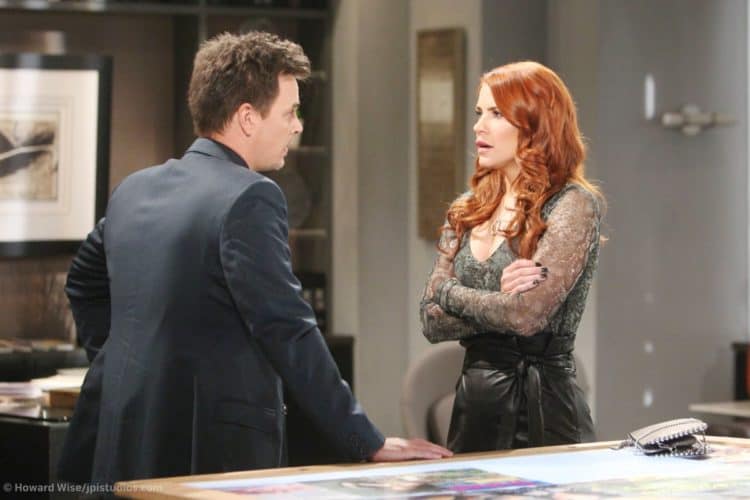 Bold and the Beautiful fans are sure that things will take a turn as we get further into the week. Quinn walked into the room as Shauna was sharing a romantic kiss with Ridge after she gave him all her support during this difficult time in his life. He did share with her the news that his marriage was over, and he did not expect her to be so understanding about how he feels and what he wants in his own life. There is just so much that might work for them, and there is so much that might not work for them. We don't know if it will be something we can see happening, but we do know she will fight for it. And Quinn does want to know all about it if she can get the news to work for her. She is always a mess, and we know it.
Wyatt decided to do something about his life. He and Sally had a long conversation about the way things are going with them, and it might not work. There might not be much they can do. They are at an impasse with this and with his mother, but we hope that they can make it through this. Quinn should not be a problem in their future marriage, though we know this is not always the case for them. Meanwhile, we do think that there is going to be a lot more drama where Thomas is concerned this week. His family is not happy that he did what he did, and they also happy that he is alive and well after learning from Hope that he might not be. It's been a mess of a week, but we are hoping it gets better soon.
What's Happening on Bold and the Beautiful
It's a #wally day!!!! @TheCourtneyHope and @THEEdarinbrooks light up the screen! 🔥🔥🔥😍😍😍😍@BandB_CBS #BoldandBeautiful

— Jennifer Lynn (@ynnej2198) December 2, 2019
We could not agree more.
What's Next on Bold and the Beautiful
Will they make it official? Brooke and Ridge contemplate the end of their marriage this week on #BoldandBeautiful. pic.twitter.com/9QqUPuQaI1

— Bold & The Beautiful (@BandB_CBS) December 1, 2019
Ridge and Steffy are both so happy that Thomas is all right and things are all turning out all right for him, but they are not happy with him and what he did for his son. They know that Thomas loves Hope and that he has dreams of a future for them, but that is not good enough for them. They have to focus on things that they love and that they want to protect, and that includes Douglas. The fact that Thomas gave over half of his custody of his own son to a woman who is not his mother is something they fail to understand. We all know that his little boy loves Hope so much and that having her for a mother is something he is so happy about, but we know that this could also turn into a situation that doesn't work well for anyone in the end. They're confronting Thomas about all of this, and it's not going to end well for them.
Then there is Hope. She and Liam are spending the weekend together celebrating Thanksgiving as a family, and they are loving it. It's their first time celebrating as a family, and it's their first time together with their daughter on a major holiday. Let us not forget that Hope spent all of Halloween trying to steal Thomas' son by seducing him and not spending the first holiday with her own daughter. It's a bit too much for all of us, and we are not ashamed to admit that.
Stay tuned for more The Bold and the Beautiful and be sure to check out TVOvermind daily for the latest The Bold and the Beautiful spoilers, news, and updates.