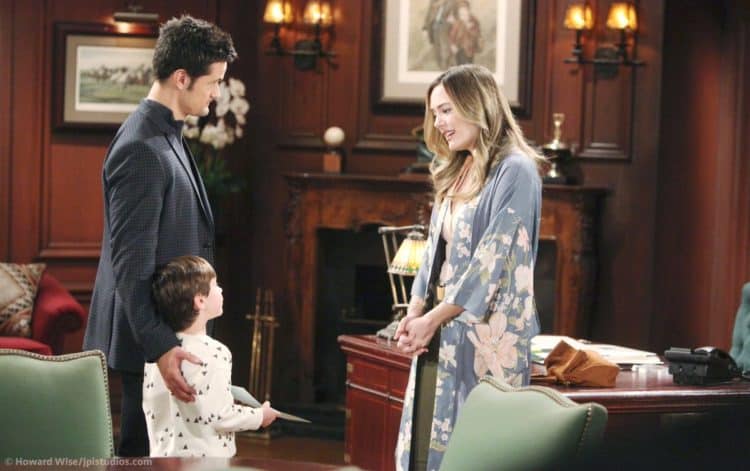 Bold and the Beautiful fans know that Thomas is never going to get better without help, but his sister and his father seem to have no idea how to help him. Do they help him like they want to, or do they help him in a manner that is a bit more obvious? They think that they are getting on to him by telling him that the did the wrong thing for Douglas, and they are sure he knows how upset they are. But, in reality, he is doing what he wants and their displeasure doesn't matter at all to him. He's using his son, again, to see if he can get what he wants from Hope, and we all know how that will work out for him. He cannot get it together, and he will never be able to if no one is there to do right by him. We cannot stand back and continue to watch this trainwreck unfold.
Sally has called Wyatt by a different name when they were being intimate, and he had to call things out to her. He had to make a decision about their future, and it was a moment we were all terrified to watch. However, no one is making bigger life changes than Ridge and Brooke, who have their divorce papers ready to go. They seem to think that they can work it out – well, they are discussing it – but we don't see that happening. They had every single opportunity, and Ridge has been kissing another woman on the regular, so that might not mean he's as invested in working things out as he might think that he is. But, we can see that some things might become a bit more difficult for him as time goes on. He's a mess. We get that. But he will never change.
What's Happening on the Bold and the Beautiful
https://twitter.com/BandB_CBS/status/1202684682267058176?ref_src=twsrc%5Etfw
We love holiday memories!
What's Next on the Bold and the Beautiful
Will they make it official? Brooke and Ridge contemplate the end of their marriage this week on #BoldandBeautiful. pic.twitter.com/9QqUPuQaI1

— Bold & The Beautiful (@BandB_CBS) December 1, 2019
Steffy is on a roll this month. She's letting everyone in her life know that she is not happy with them. She spent some time last week letting Hope know that her actions were completely wrong and inappropriate, and now she is making sure that her brother knows the same thing. She also wants her brother to stay away from Hope. Nothing about this is sitting well with her, and they will begin the week in the middle of an argument about all of this. There is very little that they cannot handle on their own, but there is more that they will struggle with as the world goes on. There is not that much we can do right now, but we can see things taking a turn for the worse as they continue to argue about everything.
Meanwhile, Brooke has some stipulations for Ridge after he asked her if there was even a small chance that they could fix their marriage. She believes there is a chance, but it's going to require a lot of work on Ridge's part. Brooke has a lot of negotiations, and she's decided that Ridge has to change his entire life to keep her. She doesn't seem to be willing to make any changes to or in her own life, but she's certainly going out of the way to get him to do that for her. After he has a chance to hear her out, will he do anything she asked him to do to make this work, or will he move on and leave her in the past?
Stay tuned for more The Bold and the Beautiful and be sure to check out TVOvermind daily for the latest The Bold and the Beautiful spoilers, news, and updates.