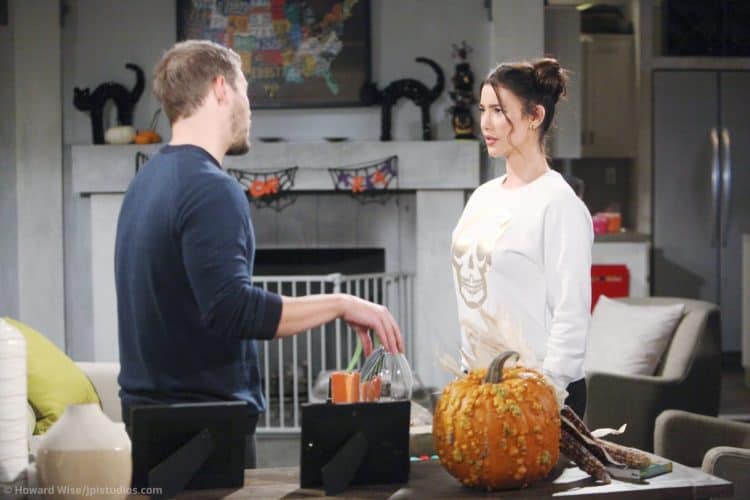 Bold and the Beautiful fans knew it would happen sooner or later, but it's giving Liam some major issues in his life. He is not a happy man to learn that Steffy is dating again. He is not happy to learn that she has found the feelings within her to get back out there and potentially have fun and find someone with whom she wants to share her life, and we get that. But, Liam doesn't get that. He's with Hope, but he is not happy that Steffy is thinking of being a dating woman again. Their night together on Halloween with his daughters – and hers – was special to him. He is someone who clearly has feelings for her no matter what is going on with Hope, but she's not willing to get into this once again. Or, is she? Will she consider it so that she can be with baby Beth more often? Either way, things are about to get interesting.
Hope is not going to see things go her way this week. She was convinced that her plan to take Douglas from Thomas was foolproof, but it is not. She is a woman who is having some serious issues in her life now that Thomas has called her bluff and asked her to do something that is not quite what she had in mind to solidify the 'family' she promised him in an effort to get into his good graces enough to get his son. There's not much going on here that she now has control over, and he knows that. What will she do? Will she back down, or will she do what she has to do to get this child, and how much of a negative effect will that have on her relationship with Liam?
What's Happening on Bold and the Beautiful
What do you think Hope will do? #BoldandBeautiful pic.twitter.com/UA9ZoX6QkU

— Bold & The Beautiful (@BandB_CBS) November 1, 2019
We think she will do it.
What's Next on Bold and the Beautiful
https://twitter.com/BandB_CBS/status/1191007122839883776?ref_src=twsrc%5Etfw
Steffy is a woman who will not do anything to support Hope at this point in her life. She is horrified by the way Hope has been acting to her. She doesn't like her, she will never really like her, and she's not dealing with her. She also knows what her stepsister is up to, and she's not going to allow her brother – as upset as she is with him – to share custody of his own son with this woman. She knows what it means and what it might lead to, and she's not willing to sit back and allow her brother to deal with this or go through with this in any capacity. She has bigger issues in her life, and she's not going to allow this to happen. But, that doesn't mean she will not support him if he needs it to get him away from Hope.
Thomas, however, has his own plan. He's aware of what Hope is up to, and he's going to see how far he can take it in an effort to ruin her life as much as he feels she ruined his. He's got a romantic setup all over for her, knowing that she is coming over with the adoption papers for him to sign. He wants to see her prove that she's into this, and we have to say we think she will go through with it thinking that Liam will be just fine with the information when she tells him what she had to do. He will not be, though, and this will be it for them and any hope of their future.
Stay tuned for more The Bold and the Beautiful and be sure to check out TVOvermind daily for the latest The Bold and the Beautiful spoilers, news, and updates.