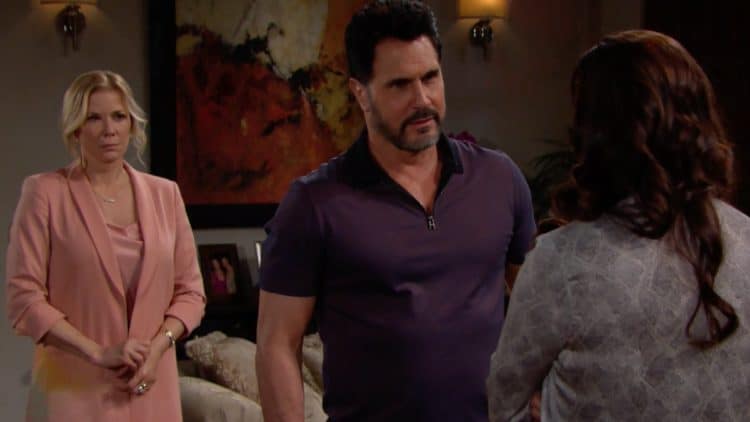 Bold and the Beautiful fans just love when things don't go so well for some characters, and this is one of those days on the classic week of back to the beginning and the craziest moments of all. This is the episode that first aired in 2003. It was when Brooke took it upon herself to become Mrs. Ridge Forrester, and she was making Stephanie miserable with all of that. She was very happy about it, and she wanted to make sure his mother, who hates her, knew that she won and there was not a thing she could do about that. It really was not anything wonderful. Stephanie and Sally, who were friendly at this point in time, decide that they are going to get their drink on and get pretty drunk. This is when Stephanie is trying to get Eric back in her life, and Sally decides the best way to make this happen is with a wonderful makeover. But, basically, there is nothing good coming from this when drunken Sally gives Stephanie a drunken makeover that does not equal anything good. Stephanie then offered her a job at Forrester, and Sally used that as an opportunity to give her long list of workplace demands. It was beyond hilarious, and we loved it. We want to take a look back at some of our other favorite most hilarious moments.
When Bob Barker Punched Wyatt
We absolutely loved this moment. It was nothing short of entirely classic, and we appreciated every bit of that. We loved it. We appreciated it, and we were not mad at this. It was a moment that Liam got to watch, and he even had a moment where he found it beyond hilarious. It was just so funny to watch someone as famous and elderly and sweet at the lovely Bob Barker lay a punch into the face of a young man who clearly didn't have much to go on at that point. Wyatt was a problem for him with his attitude, and he did handle that with some serious stuff. We loved it.
The Cake Scene
This goes without saying, to be quite honest. The time that we get to see the lovely Brooke and Taylor in the middle of a cake fight in the middle of a wedding was funny enough. Liam and Hope were getting married, Steffy was fine with it, they were all fine — except their mothers. They had a knock down fight in the kitchen, and they shoved the wedding cake in one another's faces. They were a huge problem, and they were not having a good time with this, but we were loving every single second of it. Of course, this is going to be a big problem as a whole, but we love that this turned out the way that it tuned out. It was fabulous stuff. What was even funnier, though, was when Steffy and Hope made them come out of the kitchen and face the family covered in cake and admit that they were acting like babies.
The Tequila Moment
Does anyone remember when there was a time that Nick was at the waterfront being all miserable and stuff, and he did what he could to make himself feel better? He had a bottle of tequila to help, and Stephanie showed up. He told her that he was just not good enough for her or up to her standards, and she was prompted to take his bottle, throw back her fair share of tequila, and we were all so impressed. Maybe not nearly as much as he was, though. But, then, when she started to choke on the worm and he panicked and tried to save her life, and we were all so impressed. That is, until she laughed and told him she was kidding. She's a professional, and she would never choke on the worm. That was a classic moment that we all loved endlessly when it happened, and it's one of those moments that really does make us miss her so much. The loss of this great character was a very sad one, and we do wish she was never gone.