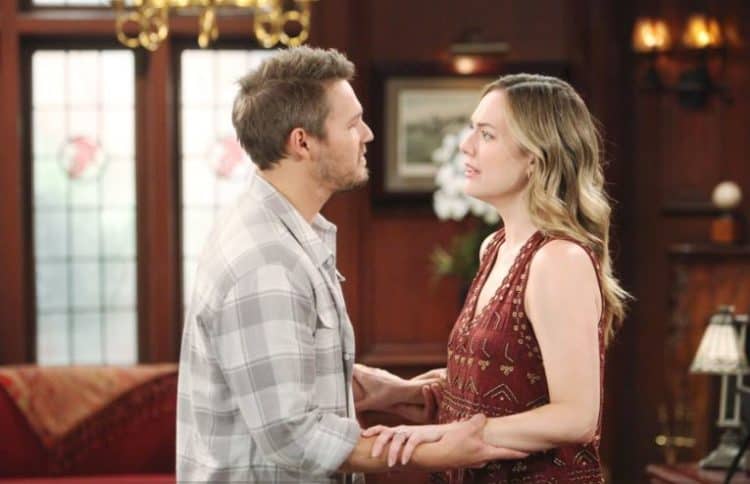 The Bold and the Beautiful fans have been waiting for this week for a very long time, and it is finally here. It's time. It's the moment we've all been waiting for. It's the moment when things finally fall into place. It's the moment we knew would eventually come into play, and it's here. Liam has gotten to Hope, and she's managed to learn that her daughter is alive and well, and she's been watching her grow up as her aunt for months now. To say she is shocked and overjoyed is nothing short of an understatement, but we get it. We get that they are doing all they can to make this work, and she's going to get the life she wanted. We don't know if they will end up back together, but we know she's officially done with Thomas and his games. We don't know what will happen to her relationship with Douglas, but we hope it's nothing that tears them apart. He's already lost his mother once.
Then there is Flo, who is doing all she can to try and make sure that Wyatt wants to be with her. She's delusional, of course. Why would he want to be with a woman who did this to his family and caused this kind of pain and heartbreak to everyone in his life? She is desperate, but there is not a chance he will give her another chance. Liam and Thomas basically fought it out, and now Thomas has more to worry about than he ever thought possible. He's a mess. He's got a lot going on, and he's not sure he can get through this without everything in his life falling apart. He's someone who cannot handle all that is happening, and it's too much for him to bear. We get it, too.
What's Happening on Bold and the Beautiful
Liam and Hope aren't the only ones affected by this secret. 😢 Send some love to Steffy. ❤️#BoldandBeautiful pic.twitter.com/wy5miFWw2i

— Bold & The Beautiful (@BandB_CBS) August 2, 2019
We cannot even imagine how this must feel for her.
What's Next on Bold and the Beautiful
It's the moment everyone has hoped for, and it is EPIC! 💥 You won't want to miss a minute this week on #BoldandBeautiful. pic.twitter.com/2scSJWW60y

— Bold & The Beautiful (@BandB_CBS) July 28, 2019
Flo has opened up to Wyatt and Liam about the truth about Baby Beth/Phoebe, and now she has to do something even harder. She has to tell two grandparents who have two daughters who are immediately affected by her lies and deceit what she did to them. She has to tell them that it was her who did this, and it was her who made this situation worse than it needed to be. She has to tell them that she is the one who made it her mission in life to make everyone miserable, and she has to tell them what happened. We can say that we are certain Ridge nor Brooke will take this news well. They will have conflicted feelings about it given the fact that they both have daughters who will have a hard time with this news.
And then there is Liam and Hope, who get to share the most beautiful and emotional reunion with their daughter. Hope has been with this baby more times than she can count, but this is the very first time she has ever been able to be with her daughter as her daughter. She never knew the truth until now, and that is a really big thing. She's got so much to offer that she cannot handle right now, and this is the moment that she's not been waiting for, but that she has missed out on all these months because of the lies that so many people have been telling and keeping from her and her ex.
Stay tuned for more The Bold and the Beautiful and be sure to check out TVOvermind daily for the latest The Bold and the Beautiful spoilers, news, and updates.