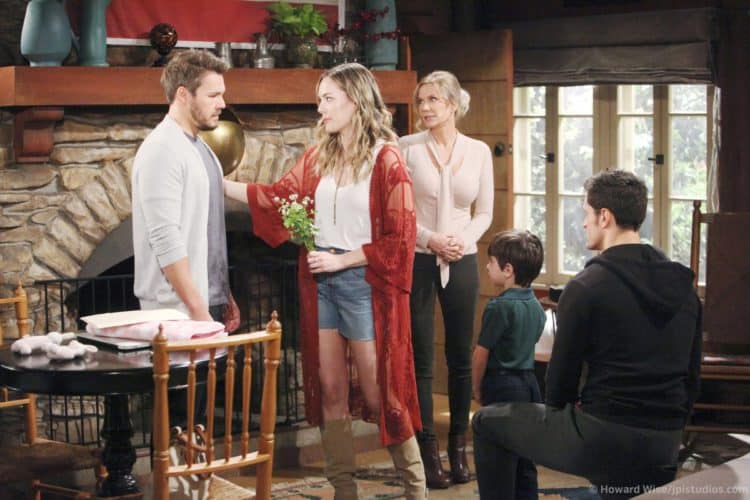 Bold and the Beautiful fans are so tired of seeing Steffy upset. She's gotten to see the baby she raised for so many months after adopting her, but only because Liam lied to Hope and snuck the baby over to Steffy's behind her back. Hope doesn't want to allow Steffy near her child, and we do think that this is a bit of a problem for so many. We aren't sure what is going on around here otherwise, but we do know that there is going to be a big situation for some people if they cannot get things together. We know that they have to stop fighting, and their confrontations with one another are growing older by the minute. There is so much we cannot help, but right now is not one of those times. We can see things improving on some ground, but Steffy did get the upper hand today.
Ridge is not happy about many things, but he was especially unhappy learning that his son knows that Shauna kissed him. She alerted him to this fact, and it's not going over well with anyone in the moment. There is nothing short of total panic in his mind, but he doesn't know that his wife already knows this. He's not sure that there is anything he can do to make his son stop using this information, but he knows that he cannot trust Thomas. He knows this, and yet he refuses to do anything he can to make this stop. He knows he needs to get his son some help, but he's trying to pretend that all is well and there is no problem where there is clearly a problem that cannot be fixed in any capacity. We want more from him, but it doesn't appear we will get it.
What's Happening on Bold and the Beautiful
Good question… #BoldandBeautiful pic.twitter.com/9KXdYfHG0O

— Bold & The Beautiful (@BandB_CBS) October 18, 2019
It is a good question.
What's Next on Bold and the Beautiful
https://twitter.com/BandB_CBS/status/1185918594514685952?ref_src=twsrc%5Etfw
Hope wants a lot from Liam right now, and she's asking. She seems to forget that he is already the father to two little girls, and that they are both younger than one and that his life has changed so much in the past year. She wants to create a new little family with herself, their daughter, and Douglas. We love that she wants to give this child a home that is filled with love and two parents and a little sister, but she is not sure that he will agree. He is not sure that he will agree. This is a child who already has a family. Sure, his dad cannot take care of him — and he should not take care of him. But he has an aunt who will take him on, too, and he might not want to take that option from Steffy if he doesn't have to. There are a lot of variables here, and there is nothing we can do to make him agree with her.
On the same page, we are also going to see that Brooke and Hope are both up to something no good in his mind, and that's what Thomas is going to find out. He's going to learn that they are trying to take his baby from him, that they are trying to take his life from him, and he's going to go straight to Brooke's home to make sure she knows where he stands and that he will not allow her to take his child from him and ruin his life. This should be interesting.
Stay tuned for more The Bold and the Beautiful and be sure to check out TVOvermind daily for the latest The Bold and the Beautiful spoilers, news, and updates.