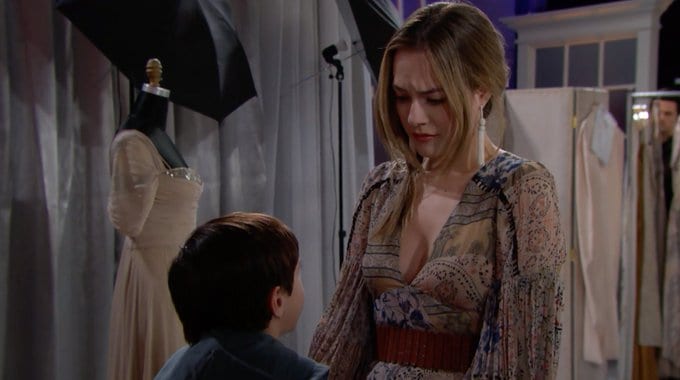 Bold and the Beautiful fans are a little tired of the endless game between Hope and Thomas and the little boy who is caught between them. We love little Douglas and his sweet personality. He's not yet ruined by his crazy family and his dad who is not quite right in the head, but that won't last much longer. Growing up with this kind of instability will change him and it will make him a new person with new things and bigger problems, but that will also change the game in a way that no one else can handle. There's not a lot we can do about it right now, but it's all we've got. We know that things are a mess, but we also know that things are going to turn around. Right now, Hope's job is to make sure he knows that she is not going anywhere and that she is his mother.
Thomas, on the other hand, has a party to attend, and he is making sure things are in high gear. He's making sure that things are not what they seem, and he is making sure that his plan is going to go according to what he wants. His plan, of course, is to make sure that he can get Hope to change her mind about him in any way he can. There is a lot she has to fix in her life, but he knows she will never hurt his son, and he is working with that. If he can get her to be with him for the boy, he doesn't care. It's not really any care of his whether she actually loves him and wants to be with him as long as she is with him and he gets what he wants, after all.
What's Happening on Bold and the Beautiful
This is our mood when #BoldandBeautiful is on 😃 pic.twitter.com/jHConU23Lm

— Bold & The Beautiful (@BandB_CBS) February 18, 2020
Might we mention we love Brooke's hair like this?
What's Next on Bold and the Beautiful
Thomas will stop at nothing to get the family he wants. See what happens this week on #BoldandBeautiful! pic.twitter.com/ciyO9N7Rpn

— Bold & The Beautiful (@BandB_CBS) February 16, 2020
Brooke is a woman who doesn't like Thomas at all. She is unwilling and unable to change her opinion of him, which is one of the primary reasons her own life is not going according to plan. She's not doing anything that will help out her marriage right now, but she also does not seem to care that much about any of that. She's a woman who wants to be sure that he knows where he stands with her, and that's all there is to it. She's calling him out right now about what she feels she sees. She's calling him out about using Zoe to get to Hope, and she's not leaving a thing unturned when she speaks to him about this. She wants him away from her daughter, and she's failing to see that her daughter is susceptible to this kind of manipulation in the first place.
Then there's Thomas, who is going to ask someone to marry him. We think that he's asking Zoe, and we think that this is the situation that will finally throw Hope over the edge. She doesn't want him to have anything that is not his to have, and that's how she feels about so many things in this world. She will finally do what she's been avoiding all this time, but we think that this is going to be it and that this is going to be the situation that works out for Thomas, but Zoe will end up hurting in this one, too. She'll say yes. She's going to feel that things are working out for her, but there's a lot that might not work well for anyone when this is all said and done – and it's all coming to a head now.
Stay tuned for more The Bold and the Beautiful and be sure to check out TVOvermind daily for the latest The Bold and the Beautiful spoilers, news, and updates.