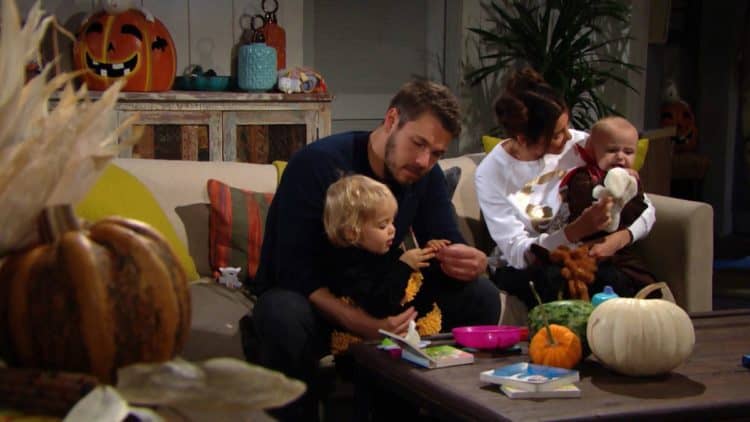 Bold and the Beautiful fans are just shocked by Hope. She's not usually such a deceitful person, and she's not making much sense right now. She's on a mission to steal a child from his father. She just lost a baby of her own and then got her back months later after being sure her daughter was stillborn, and she should know better. She should know that she is someone who is not going to do this, and she should know better. But, here she is pretending to want to spend her future with both Thomas and Douglas so that she can trick him into signing custody papers that allow her to have half the custody of his son. She's lying all about it, and that's not her. Does he see through her? He asked her to tell his son what she envisions for their future, and we aren't sure she can lie to this child.
Meanwhile, Brooke is not happy with anyone. Ridge is still making out with Shauna, who is sharing all about it with Quinn. There's a big party, but Liam decided not to attend the party. Instead, he decided to go to his ex's house with his daughter so that they can both spend the holiday with his other daughter and Steffy. We are not entirely sure that Hope knows that he did this, and we are positive she will not like it if she knew that her own daughter was spending yet another first with the woman who raised her from the day she was born. This is all too much for everyone, and we cannot wait to see how this unfolds. We'd really like to see Steffy find some happiness, and we'd like to see her not lose this baby. She's miserable, and we want more for her.
What's Happening on Bold and the Beautiful
Today on #BoldandBeautiful, Liam decides to stay longer at Steffy's house, since Hope is still at the Forrester Halloween party. pic.twitter.com/REIXrEO4gT

— Bold & The Beautiful (@BandB_CBS) November 1, 2019
This is not going to lead anywhere positive.
What's Next on Bold and the Beautiful
https://twitter.com/BandB_CBS/status/1188455308483428353?ref_src=twsrc%5Etfw
Things are taking a big pause this week for some people. For one, Hope is going to find that her plan to get Thomas to give her his son is not going her way when he decides to call her on her bluff and make a promise to her that they can be together. He wants to make an indecent proposal to her, and that's the only way we see her getting what she wants. Will she go through with it to get this young man into her life? She's awfully focused on making him her son when she should be focused on the daughter she's missed out on for nearly a year after all the lies, but that's none of our business. We think that Thomas knows precisely what he is up to, too.
Then there is Liam, who just learned that Steffy is entering the dating game. She may not be actively seeing anyone at the moment, but the idea that his daughter's mother and the woman he's loved so long is seeing other people – or at least open to it – is a lot for us to handle. This is too much, and we know that he might just feel the same way. He is clearly not on board with her dating, and we cannot figure out how he plans on making things work with her as this happens. There is little that they can do, and we cannot see this ending well for either of them as he allows this to continue to eat at him over time.
Stay tuned for more The Bold and the Beautiful and be sure to check out TVOvermind daily for the latest The Bold and the Beautiful spoilers, news, and updates.