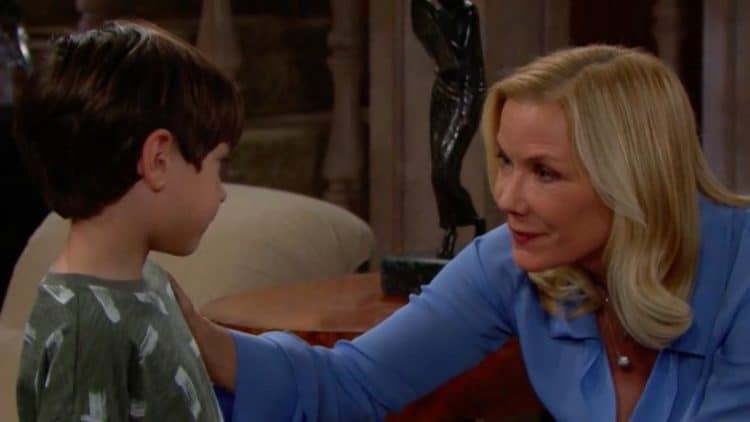 Bold and the Beautiful fans know that the current situation on the show is not going to get any better. It's going to be a situation that doesn't make anyone feel good about life, and that's hard. We know that Ridge and Brooke cannot agree on anything right now. They are not having the best day, and they are not going to end things well. They disagree about their daughters. While Brooke and everyone are all happy for Hope and Liam that their baby is not dead, Brooke has forgotten to be sad for Steffy. She's completely overlooking the fact that while this baby might be Hope's real baby, Steffy thought it was her baby and has been raising her since birth. She's months old now, and it's been a horrible time for her. Ridge, on the other hand, is more focused on his daughter's breaking heart, and Brooke is not happy about it.
It's been horrible, and it's not going to get any better for her. Hope and Liam will get their baby back. Steffy will not have this baby as her own. Her brother knew the truth and kept it to himself, and everyone is a mess right now. Thomas is going to think he can get her back, everyone is going to be mad, and there will be a lot more drama than anyone is willing to deal with in this situation. We cannot see things getting any better around here. We cannot see things changing for the better as they are working themselves out, and we cannot see things making anyone happy in the near future if their names are not Liam and Hope. Will Liam, however, hurt for Steffy and for his own daughter, Kelly? Or will he forget about them now that his life is complete?
What's Happening on the Bold and the Beautiful
😭😭😭 #BoldandBeautiful pic.twitter.com/UDl7F38Mcy

— Bold & The Beautiful (@BandB_CBS) August 8, 2019
What's Next on the Bold and the Beautiful
Add a splash of fun, a hint of trouble, and a jolt of excitement to your HOT summer five days a week. ☀️ Tune in to #BoldandBeautiful weekdays on @CBS. pic.twitter.com/VPHsKG5BqW

— Bold & The Beautiful (@BandB_CBS) August 13, 2019
Thomas is not in his right mind, though we are not surprised that this is finally out. He's not been in his right mind from the moment he came home from New York and started using his own child to get to a married woman who belongs to his stepmom. It's not a good situation, but he's falling out of control more than he has in the past. He's got so much going on that even he is struggling to figure out who he is and what is going on in his life. He's gotten to the bottom of a few things, and those things include being with someone he knows is not in love with him. He also believes that she might forgive him and actually be with him despite the fact that he's known for months that her baby is not dead and that she's seeing her regularly.
He's out of his mind, obviously. He thinks he can make it work with her, and he is not going to rest until he can make that happen. He's not going to stop until he can figure out a good way to make his situation work in his favor, and he's going to upset more people than ever. Vinny is going to try and help him out a bit, but that won't go well, either. The Logan family, on the other hand, is enamored with Beth. They didn't care so much when she was Phoebe, but they do love her as Beth. They love everything about her, all that she brings to the table, and all that she is.
Stay tuned for more The Bold and the Beautiful and be sure to check out TVOvermind daily for the latest The Bold and the Beautiful spoilers, news, and updates.