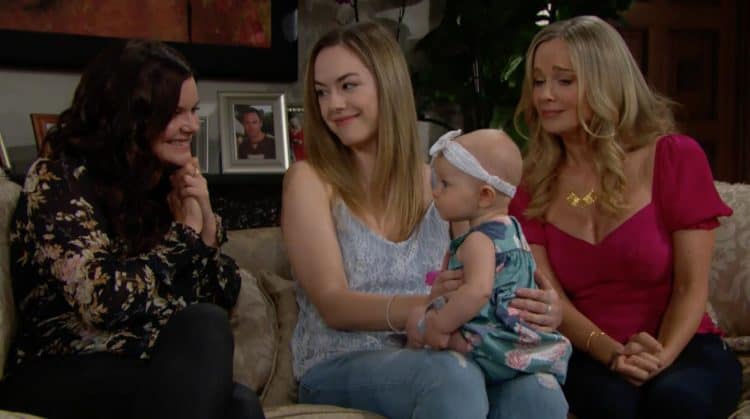 The Bold and the Beautiful fans cannot express how happy we are that the truth is out. Seeing Hope so happy means so much to us. She suffered like no one's business. She made herself a mess more so than she needed to be following the death of her baby. She chose the very hard road that she did not need to take. She chose to do the hard things and the ugly things and the things that she knew might hurt. She chose those things, and they did not serve her well. She alienated her loved ones. She left her husband, who she still loves so much. She chose to be as miserable as possible, and that is not a beautiful thing. But, we know that things will always work out for her in some way. She's got her baby back. She's got the man she loves back.
But, we are crushed for Steffy. It took her a moment to understand the full extent of what is going on, and she's going through a range of emotions right now. This is not something she ever saw coming. This is not a life she thought she'd live. This is not a situation she felt safe with. This is not a thing that she felt would ever work for her. She's been crushed more times than she can count, and now she has to give up her baby. The baby she adopted to love and raise as her own, and she didn't know this baby was not hers to raise and adopt. She's hurting, and no one but her father seems to notice that there is more to this than just the happy ending for Liam and Hope. It's hurtful and upsetting, and no one can see that.
What's Happening on the Bold and the Beautiful
https://twitter.com/BandB_CBS/status/1162072879774613504?ref_src=twsrc%5Etfw
We love happy coworkers.
What's Next on the Bold and the Beautiful
Add a splash of fun, a hint of trouble, and a jolt of excitement to your HOT summer five days a week. ☀️ Tune in to #BoldandBeautiful weekdays on @CBS. pic.twitter.com/VPHsKG5BqW

— Bold & The Beautiful (@BandB_CBS) August 13, 2019
There might be some good news in the life of Hope and Liam, but they are making many people very sad. She's taking her baby back, undoing all the adoption paperwork, changing her baby's name, and getting rid of the Forrester name in her life once and for all. She's not sure she cares how Steffy feels about losing a baby, and we are not sure we can stand to watch this hurt that Steffy is facing. But, the bigger news is that Thomas is going to find out – he is currently in hiding – that the wife he hopes to get back to himself is going to annul their marriage and move on from their life. He is not happy about this, and he plans on making sure that this does not happen. But, that's not going to end well for so many. His son, for instance, will end up hurting the most. He will call the nanny and have her bring Douglas to him, and we hear what happens next is terrifying.
We have reason to believe that Thomas will continue to strike fear in the life of his son, the son he is raising without a mother. He will yell at him, and he will even rear back to hit the child, and the child will end up terrified. This little boy didn't know that he was doing something wrong. He was trying to help Hope feel happy again because he loves her so much. There is so much that will still happen here, and we are terrified for this child and the life he is about to live.
Stay tuned for more The Bold and the Beautiful and be sure to check out TVOvermind daily for the latest The Bold and the Beautiful spoilers, news, and updates.