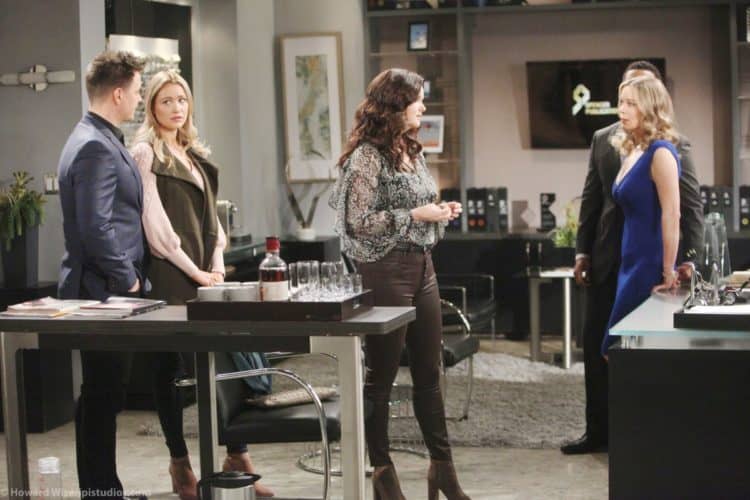 Bold and the Beautiful fans know that Sally is not going to allow things to just end with her and Wyatt again. She's not a fan of Flo, and she has a lot of people backing her up in the wings for that one. She knows that she is better for Wyatt. We all know she is better for Wyatt, and we cannot help but wonder how many things in her world will need to change before she can get him to herself without this awful girl in her way. Flo needs to, and we are not afraid to say this, get lost. She's not good for Wyatt. He's a good person, and she's not. You cannot just say that you regret all that you did and it was wrong when you knew it was wrong and you sat back and watched it all get worse because that just happens to be what suited you the most.
Then there is the fact that we just don't know how to focus on things like what happened with Brooke and Quinn. They seem to be in the middle of a fight all about the Forrester family, and we have to ask what makes either of them think that they have any say or any right in this family? They both married in, and Brooke is technically one foot out the door in terms of being a Forrester right now. Her husband was cheating on her and she's been thinking of leaving him, and she's arguing with the actual current matriarch of the family who is – at least not at the moment – having any marital problems? Yeah, we don't think so, either. But, this is turning into some very good stuff, and we like watching it all go down. It's entertainment to the fullest.
What's Happening on Bold and the Beautiful
All hell breaks loose when Brooke learns about Shauna and Ridge's stolen kisses. WATCH FULL EPISODE: https://t.co/Us31X4cvtr #BoldandBeautiful pic.twitter.com/1AthJ139M9

— Bold & The Beautiful (@BandB_CBS) January 16, 2020
You might say she's a little unhappy.
What's Next on Bold and the Beautiful
Brooke's out for revenge. 👊 Don't miss a minute of #BoldandBeautiful this week! pic.twitter.com/vKO5M41ZGZ

— Bold & The Beautiful (@BandB_CBS) January 12, 2020
This is the kind of week that will bring some people together, but it's also the kind of week we can expect to see some people grow further and further apart. For one, we think that Hope and Liam are growing apart by the day. Even though she's looking to marry him, we don't think that she can handle the fact that he spends so much time with Steffy. Will this be the week that she decides to give him an ultimatum of her own, which means she's going to ask him to spend less time with the other baby he has with Steffy so that he spends less time with Steffy in general? We don't know it's this week, but we do know this is coming. Especially after what she saw happening between them.
Meanwhile, we think that Brooke and her sisters are about to get even closer together than they were before, and we think that because they are literally living the most interesting lives right now. They are living lives that make little sense to us. they are living their lives, but they are not doing it in the best manner. They have to get rid of Shauna, and they hope to get rid of Quinn as a result. But, they are looking to protect Brooke, and they will all come together for this. It's a sister thing, but we have to ask how many people will be put off by their desire to be together so much?
Stay tuned for more The Bold and the Beautiful and be sure to check out TVOvermind daily for the latest The Bold and the Beautiful spoilers, news, and updates.