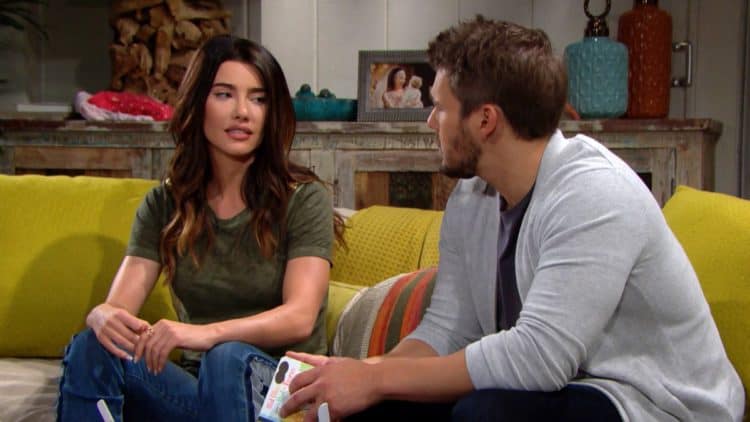 The Bold and the Beautiful fans are loving everything about Thomas and his evil ways. He is abhorrent, and we love it. He is pretending to be the sorriest, most upset, most apologetic person on the planet for what he did to Hope and their family, and now he is doing that to keep his job, to get back into the family, and to make things worse. He's doing all he can to look like he really, truly wants to have the help he is getting. He's looking for everyone to find a way to forgive him for the lies he told, and he is looking for them to want to forgive his mistake because he thought keeping the secret was the best thing to keep his own sister from being hurt and from lives being turned upside down a second time. It's not working on everyone, yet, but it might. All the while, he's contacting Shauna on the side to see if they want to work together to ruin Brooke's life.
It's a genius plan, and we are following along. We also know that Katie is doing much better now that she has a kidney, but she is still shocked it came from Flo. Everyone is shocked, and Shauna cannot believe people are not falling over with thanks and appreciation for this. She thinks they should just forget all the horrible things Flo did to their family and let her be forgotten for that and remembered for saving a life after all the lying she did. She's a kidnapper, and she's not someone they are going to jump to love once again. Unfortunately, we do think that they will all forgive her at some point, but we do not think that day is today. It's soon, though, we can be sure.
What's Happening on Bold and the Beautiful
We love to see Steffy smiling again 😃 #BoldandBeautiful pic.twitter.com/8Wbg3l5EXI

— Bold & The Beautiful (@BandB_CBS) October 17, 2019
She does look happy, doesn't she?
What's Next on Bold and the Beautiful
A woman on a mission locks in her target. 🎯AND could a family torn apart be reunited? Tune in to #BoldandBeautiful this week to find out! pic.twitter.com/UqL8YlqwNZ

— Bold & The Beautiful (@BandB_CBS) October 13, 2019
Steffy and Hope will continue their argument into this week, and it's not going to be all right. They cannot stop this, and there is nothing that we can do that makes us all feel better about this. It's too much, but they will not stop. Steffy is going to get the upper hand today, though, and we cannot handle anything other than what is going on in her life. She is not going to have any way of making her life better, but she is going to make sure Hope knows that her life is not what it should be. She knows that this is not a good situation, but she also knows that this is never going to get better. She's not mad that Hope's baby is alive, but she's upset that no one is giving her any grace or recognition for also losing a baby, and she's driving home that point this week.
Zoe is going to learn that Thomas has some plans for the future. We can clearly see that she is afraid for her life and that she knows he will do horrible things to her if she does not comply. She's going to learn that she is not going to be in a good place if she doesn't comply with him, and that's not going to help her. She should just get out of LA as quickly as she can and move on with her life, but that's not happening, either. She's part of this now, whether she likes it or not, and we assume she does not.
Stay tuned for more The Bold and the Beautiful and be sure to check out TVOvermind daily for the latest The Bold and the Beautiful spoilers, news, and updates.