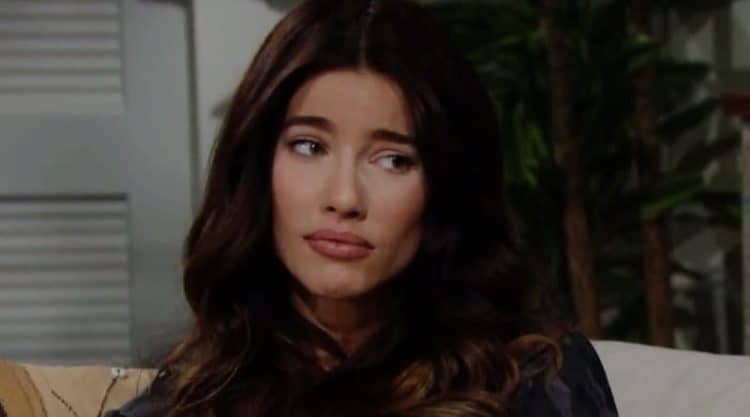 Bold and the Beautiful fans know that there are many people who might not get the lovely Steffy, and that's all right. She's a woman who grew up a lot in the past few years, and that's big considering how much she had to grow up. It was having a baby and becoming a mother that changed her so much, and there is nothing in her life that will ever make her go back to being the woman she was before she had a child. She was a woman who would do anything to get what she wanted, but she would do it at the petty expense of others. She wasn't happy. She wasn't living her own best life. She wasn't doing things her own way or even in a good way. We love her single because she's so focused on her kids and herself, but we should rank her best love stories from worst to best.
Wyatt
There was never anything there on her side other than a soft side for a man who was so good to her as a friend. She was so in love with Liam, and she was so crushed he didn't seem to be feeling the same about her, and she had no idea that Wyatt's mother is the one who made that all possible. She took Liam, held him captive, and did all she could for her son so that he could get Steffy to fall for him and marry him. She did it because she wasn't thinking, but it was never Wyatt she wanted. There was never any real passion or romance there for them. It was always something so much less than that, and we all knew it to be true. They didn't have what it took, and they were always our least favorite marriage of hers.
Bill
She had a sweet spot for him all her life, and she made that clear from the time she was quite young. We liked them sometimes, because she was so much like him at a time. She embodied the thing that he was so good at, which was being unapologetically himself and being there for no one but him. But, she was too much for him just as much as he was too much for her. We still think they could have been a dynamic duo and had some big fun in their lives, but we aren't sure that it would have worked for them. We are not sure that they would have been anything other than a mess with one another. We aren't sure that they wouldn't have killed one another at some point, but we do think that we would have really enjoyed watching that all go down and all happen in their lives. We liked it, and we hoped for a moment that it might work out. We are, admittedly, glad that it did not, but we did think for a moment that it might be a fun situation to watch go down.
Liam
We have to rank him as the best because he is the man who made her a mother. They might not be a couple we want to see get back together, but they might be a couple that can be friendly enough to keep things working for their family. We do think that of all the people he's ever been with, Steffy is the woman he cared for the most. They had the most chemistry, and they had the best time. We think that Hope is someone who he cares for so much, but we think Steffy is his one true love. She's just too much for him, and he's not quite enough for her. Hope is his second afterthought, but we think that even they can make things work if they have the right option. However, we think their story is the best one because it allowed her to find who she really is. He made her a mother, and that brought her the greatest sense of joy in the world, and that made him feel as if she could never be more powerful or more amazing. We love that about what he did for her.