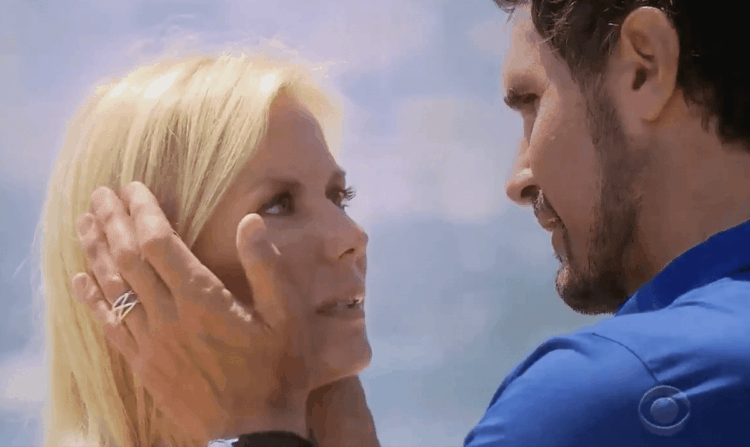 Bold and the Beautiful fans are aware that anything can happen around here. Heck, we've seen it happen around here. We've seen so much, we've heard so much, and we've been through so much with some of these people, and it takes a lot to shock us. Honestly, when someone comes back to life after being thrown from a flying helicopter or after a fall from a cliff into the ocean below, we are not shocked. When someone is not who they say they are, we are not shocked. When things happen around here, we see it coming. It's not common, but there are a few times we've thought we knew what was happening only to realize that we had no actual idea what was going on. You could say we were shocked, and that's not something that happens often. Here are a few times that the show genuinely shocked fans in the best way possible.
Baby Beth's Non-Death
There was not a dry eye in the house when baby Beth was born dead. We knew it was coming. We knew that something awful would happen to this young family when it was all going so well for them. Hope was married to Liam, they were having their first baby. For the first time in the history of their lives, they didn't have to worry that Liam would leave her — again — for Steffy because Steffy made it clear she was done with this back and forth stuff and they could have one another because she'd rather have a man who doesn't have to choose between her and another woman. But, then things didn't work out. Liam was spending too much time with Steffy because they only just had a daughter. Hope wanted more quality time, but that didn't work out because of the storm. Then the baby was born in distress and didn't make it, and we were horrified. But, when we found out that the baby didn't die, that Flo and Reese lied and sold that baby to Steffy, we were nothing short of so shocked we didn't even see it coming.
Storm's Suicide
Remember back in 2008 when he killed himself? We didn't see that coming. We actually thought that Katie would die when he accidentally shot her. Which, we should point out is something else we did not see coming. We didn't see them doing this. We didn't see this happening. We did not see much of anything in any capacity at this time, and that is that. But, it turns out that some things are just not what they seem. He shot his sister by accident. He knew she would die without a new heart, but that heart transplants are not easy to find. In a shocking twist of events, he worked very hard to find a way to kill himself so that he would not die but become brain dead so that his sister could have his heart and survive. It all worked out for them, and that was a beautiful but sad and horrible moment not one of us saw coming.
Maya's Situation
We didn't know much about how this even made sense at all, but we did just go with it. So, you can say that this shocked us because of several reasons. For one, Nicole is the one who learned about Maya being transgender. But, she didn't have a sister by this name, ever, so this was a situation that didn't make much sense. They tried to explain it away, but things just didn't work out. When Nicole was like, "OMG! You aren't my sister Maya, you are my brother, Myron," that no one knew she had, either, we were all like "What?" and that was that. The story made no sense, which is why it shocked us. There wasn't enough to fill in the many, many blanks that came with all that transpired that day, but we can say with absolute certainty that this was one of those stories that absolutely shocked us as a result. We get it. They needed something. It didn't make sense — at all — but they had to go with it.