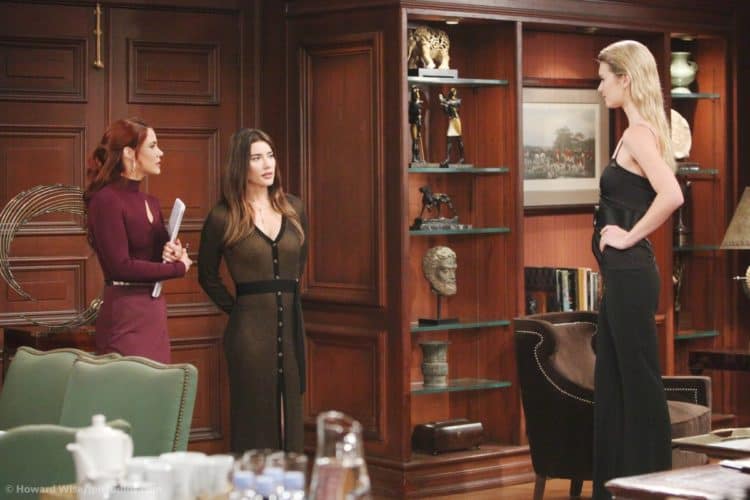 Bold and the Beautiful fans have been disappointed for weeks that things have changed so much. There's a long history of all that is going on being aired right now, and we do love that. It's so much fun to watch the past unfold again and remind us of all the good shows and entertainment that the network provides, but we know that we are out of new episodes for the time being. There is no end in sight right now. There is no news as to when the show will return. There is no news when anyone will go back to work or even if they can go back to work with all the social distancing guidelines and lockdowns and whatnot. We figure that writers are at home right now doing all that they can to make sure they have fresh new ideas for the show when everyone does return to work, so we thought we'd share a few of our own ideas in case they're feeling the need for some inspiration.
Flo and Wyatt Break Up
We are done with them, but mostly because we never fell for them to begin with. They don't make any sense, she's not that likable, and he has so much chemistry with Sally. Wyatt and Sally are just so good together, and they were so non-dramatic and crazy like so many other couples. They actually had a real chance to be with one another for the rest of their lives, but we can see that this will be another Ridge/Brooke/Taylor and Bill/Katie/Brooke and Eric/Stefanie/Brooke sand Liam/Steffy/Hope situation for these three. They need more than this, though, if you ask us.
Shauna and Ridge Get Married
We'd like to see Ridge find a nice woman to settle down with who has not been married to everyone he knows. A wife who has not been married to his biggest enemy, his brothers, and his father might be a nice change for him, but will this happen? He always like to be with the women who have been with everyone else he knows, and this might be too stale and tame for him if he cannot imagine he's just the best of all of them when they keep coming back for more, right? It's gross, but we'd really like to see him change a bit.
Liam and Steffy Realize They Love One Another
We know that they do, but we'd like to see the moment when Steffy realizes that she only let go of him so she could be strong for herself and their daughter, and the moment that he realizes things never worked out with Hope because she's not his one and only. Then, we'd like to see them get remarried, actually make it work, have another baby or two, and spend a little time being happy while Hope endures drama of her own with some other man or something to that effect. These two need some happiness with one another.
Quinn and Eric Divorce
They don't make much sense. She's too boring with him, but she's too wild without him. He might not be able to handle what she likes to do for un, which is destroy those she's not familiar with. But, that's a situation that everyone has to deal with on their own time. Right now, though, we have to focus on the fact that we have so much going against them, and we'd like to see them end things. We'd actually like to see Eric find a nice older woman his own age and spend some good years with her while he has the chance.
Katie Decides to Leave Bill
She's a strong woman who deserves so much better. They have so much going for them, and they have so much working in their favor, and we would like to see them make this happen. We'd like to see them find a way to be happier and to be in a better place. We'd like to see them make things work and find out how to live without one another, and we think she's too strong for him. She needs more, and he needs to learn he can't do as he pleases.