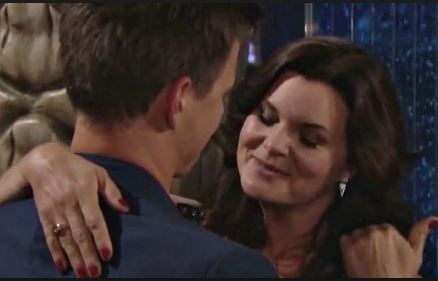 The Bold and the Beautiful fans aren't all excited about Katie and Wyatt and their love for one another, but we are. We like these two together. They make us happy, if for no other reason than they are totally inappropriate and awful for one another. They are also the ugly ducklings in comparison to their siblings. Wyatt is always second to the handsome Liam who always seems to win and get what he wants no matter what happens to him in life. And then there is Katie. She's always been second to Brooke, and that's a problem for her.
These two are so unlucky in love most of the time that we love how lucky in love they seem right now. They are happy with the way things are going, but we hear they are going to suggest that they make it a little more exciting in the coming days. Today is the day one of them is going to suggest that they spice things up a bit.
And we can't wait. What do you think they will do to spice things up and make it all more exciting? We don't know, but we do know that it will probably be a little dirty since they are both trying to keep this entire thing as secretive as possible. So many people know, but Bill has yet to find out his other son is sleeping with his ex-wife. Though he can hardly judge since he's sleeping with his other son's current wife.