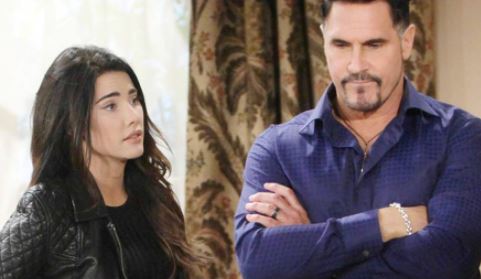 The Bold and the Beautiful spoilers indicated some things might go down next week, and we want to address a few of the most obvious rumors. The first is that there is a good chance that Bill might be losing it more than we thought he was. It's not a big secret that his life has been a total mess lately, but it's his own fault and he has no one to blame for himself. He's put himself into situations that don't make a lot of sense by sleeping with his son's wife and all that.
And now he wants her to be with him. He has issued a proposal to her, and she's not having it. She doesn't want anything to do with her father-in-law, but he doesn't seem to realize that she's serious. He seems to think that her refusal to be with him is a fun game for him. In fact, we have the sneaking suspicion he finds her refusal to be more of a challenge than anything else — and that is more than a little disturbing.
We wonder what he might do to get her to be with him since her no is clearly not something he thinks is a serious answer. He's losing his mind, and we feel that there is a good chance he needs to see a doctor. He needs to focus on things that are good for him rather than things like being with his pregnant daughter-in-law and raising his son's baby.