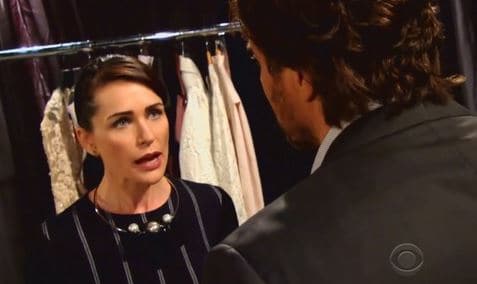 The Bold and the Beautiful spoilers tell us it's not over between Katie and Quinn. She's been using Quinn to get what she wants for a while now, but it turns out that things might not be going Katie's way much longer. Quinn is about tired of being Katie's one and only source of dirty work, but she's harboring a secret with Katie. Will she allow this to continue? We know that things are going to get a little ugly for them today, and we can't wait to see how this goes down.
Katie seems to want her own designs to go into the next collection at Forrester, and she declares this at a meeting. Quinn and Ivy disagree that this is a good idea, and Katie will push her agenda. Ivy is well aware that Quinn and Ridge had a little fling. She knows what is going on with Katie and Quinn, and she's not about to get involved in this knowing how it's going to affect the business.
We know Quinn is going to snap when this happens, but we just don't know if it will be at Katie or when Katie leaves. She knows this has to stop, but she's not sure how to make it stop. She and Ridge have to figure something out, because they don't want the business ruined any more than they want Eric to find out about their fling. Can they take Katie down, and should she watcher back from this point forward? We have a feeling she might want to do just that.