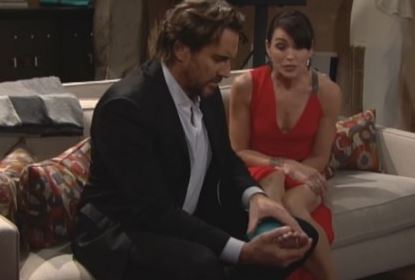 The Bold and the Beautiful fans are growing a bit impatient with the Ridge, Quinn, Katie, Brooke, Eric situation. Brooke decided she was done with Ridge, she moved on and married Bill, and everyone seems to be in the middle of a big mess right now. Hasn't enough time passed? We sense this story line is being dragged on a bit longer than necessary, and that makes things a bit difficult for all of us to compute. It's just getting boring right now, and we want writers to make a move.
We know Quinn is upset this week with Katie. Katie has been making her wants and desires known to Quinn for some time, but she doesn't seem to care at all what Katie wants. She's angry, and she can't continue to allow this woman to blackmail her. Does this mean she's almost done with that? Or does this mean she's going to have even bigger problems to deal with as the days go on?
But it seems that Katie has more on her mind than just getting what she wants at work. She's made a comment to Eric that something is going on with Quinn, and she's loving his reaction. It means he'll be questioning his wife, and her guilty conscience might make her make some mistakes when she responds to him. Will she end up telling on herself as the days go on? And will Eric finally go off and fall for Katie as she's been hoping he might?