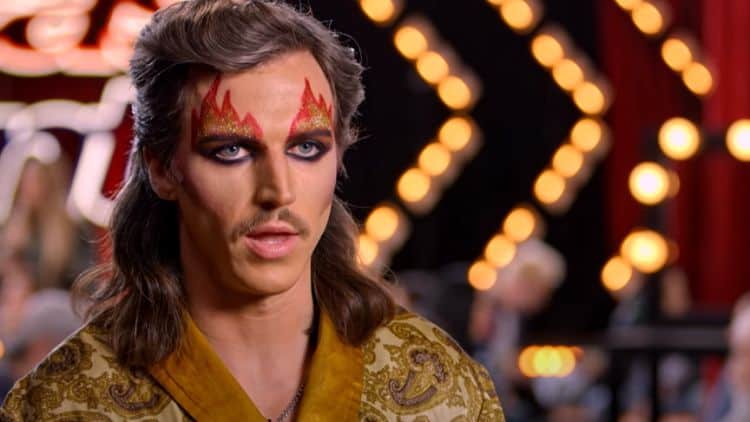 If you've ever seen America's Got Talent, you know that the show is full of surprises. When someone steps out on the stage, honestly never know what you're going to get. So when Bonavega stepped on the stage wearing a sparkly silver ballerina dress, there was definitely a moment of uncertainty that followed. However, once he started performing everyone in the crowd was stunned — in a good way. Â Not only was Bonavega's performance unique, but it was actually pretty impressive. Only time will tell how things work out for him on the show, but even if he doesn't win he'll still go down in AGT history as having one of the most eccentric performances. Continue reading for 10 things you didn't know about Bonavega.
1. He Sells Merchandise
If you've seen Bonavega's performance, you may find yourself drawn to his unique look. Although he doesn't sell any of the costumes he wears, he does sell some very cool merchandise on his website. The items he sells include posters and t-shirts with his name and face printed across the front.
2. He Has An Impressive Social Media Following
Even before his performance on AGT, Bonavega was already working hard to make a name for himself. Over the last several years, he's been building a strong fanbase. He currently has over 12,000 followers on Instagram, and that number is likely to continue to grow thanks to AGT.
3. He Has A YouTube Channel
Have you wanted to hear more of Bonavega's music since seeing his performance? The good news is that you can. He has a YouTube channel where he uploads some of his original songs and music videos. His channel has nearly 2,000 subscribers and over 133,000 total views.
4. He's Trying To Keep Rock Music Alive
Not only is Bonavega's style unique, but his mission in music is as well. When asked what he wants listeners to take away from his music, Bonavega told Voyage L.A. "I am trying to keep rock music alive while also trying to advance the art form. I incorporate theatrical elements into my live performance which usually has some sort of narrative."
5. He Grew Up In A Religious Household
Bonavega is all about expressing himself freely, but that wasn't always the case. He grew up in a very strict Christian household that didn't leave him with much room to express himself. He says that he had to listen to Led Zeppelin in secret because it was considered taboo.
6. He Moved To L.A. At 25
Bonavega was born and raised in Toledo, Ohio. He decided to move to Los Angeles when he was 25 in order to pursue his career in music. Although he was excited about the move, he was also upset because he felt like he'd already wasted too much time living in Toledo. He told Earmilk, "I felt angry and resentful because I felt like I had wasted the past 25 years of my life memorizing Bible verses. I felt shame and guilt about the most natural of human instincts but I felt this intense relief thinking I can just exist and be and I don't have to feel bad about it."
7. He's A Jazz Fan
Rock music is Bonavega's thing, but he draws inspiration from other genres as well. He's a big fan of jazz music and loves the soul and energy that can be felt in the music. He says, "I mainly listened to jazz in my downtime. Coltrane, Miles Davis, Dean Martin, Wayne Shorter. Jazz holds a special place in my heart and is the one style of music I can really sit back and relax while I listen. I think its because I have yet to conquer jazz guitar and so its still very inspiring and exciting to experience."
8. He Doesn't Like To Label His Sexuality
Throughout his career, it's become very clear that Bonavega loves to express himself freely. This sometimes includes wearing clothes and accessories traditionally worn by women. As a result lots of people have had questions about his sexuality. However, he says that he prefers not to label himself.
9. He Hopes To Inspire Creativity In Others
Not only does Bonavega want to entertain people with his art, he hopes to inspire them as well. As a highly creative person himself, Bonavega has experienced the freedom that comes with true self expression. He wants his music to spark that same level of creativity in others.
10. He Writes And Produces His Own Music
If you thought Bonavega's image was just a gimmick, you might want to think again. He is a truly well-rounded artist. Not only are his skills as a performer on point, but he also writes and producers his own music. There aren't very musicians who can say that they can do all three of those things well.