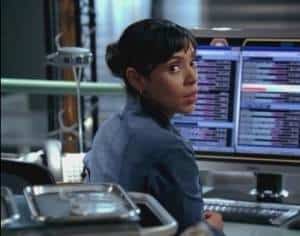 This week, our Dynamic Duo host a Very Special Episode of Bones. It's ripped from the headlines and everything, ladies and gents, so sit back and enjoy 'Booth and Bones go to High School (Again).'It's trite, it's silly in a not-good way, and I hated it. There, I said it, I hated it. For a perfectly good show, this was a fairly crappy episode. I may be in the minority, but I'm A-OK with that and you are free to disagree with me in the comments all you like. Wow – that was hostile, I'll try and tone that down a bit.
We open on a couple of workers are chatting on a cold winter's morning on their way to their salt trucks to diligently drive their rounds. One of the women flips a switch to begin filling the other woman's truck when, with a thump and a thud, something that definitely isn't salt falls through the hatch.
We have a corpse! And a really bad bible joke about Lot's wife from a remarkably composed corpse-locator. The camera pans over and sure enough, a nicely desiccated body is splayed out in the salt.
Booth arrives with an expository comment that lets the audience know that the corpse has been in the salt for weeks and Bones remarks on the state of the desiccated dermis, or shrunken skin. 'Desiccate.'I adore that word, it's my favorite thing about this episode, but Booth isn't interested in my linguistic tastes, preferring instead to compare the corpse to an 'apple doll.'Bones corrects him, for it's a girl, teen-aged, and tall – over six feet — the salt's just drawn out all the moisture leaving just the tissue behind. Hence, desiccated. Tactfully, Bones refrains from commenting when Booth mentions a craving for potato chips. Of course, now I'm hungry – thanks, show.
At the Jeffersonian of all places, Roxie and Angela are discussing pets. Is this a date? Why are they here? I don't know! At any rate, Angela wants a dog, but Roxie seems to be a cat person. I already smell trouble in paradise and it's compounded when Roxie asks why Angela's so fixed on getting a pet when they aren't even living together. 'Yet.'Angela firmly corrects. My eyebrows raise, that was awfully possessive of Angela.
Meanwhile, Bones, Angela and Hodgins are observing the newest of the revolving-door interns at his daily prayers. Meet Arastoo Vaziri, and the really annoying prayer gag we will be having the rest of the episode. Bones doesn't anticipate this going well, and frankly, neither do I…but then it is the revolving-door intern, so there wasn't any real hope to begin with. Cam not-so-subtly reminds Bones of religious tolerance and the Great American Way and Bones tries to score points with a quip about finding all religions equally irrational. Rushing up, Vaziri thanks everyone for their patience and Bones helpfully notes that she had no choice thanks to that pesky Constitution thing we have.
Cam looks like she wants to kick Bones under the table (and she's not the only one), and Vaziri looks confused and possibly a little scared.