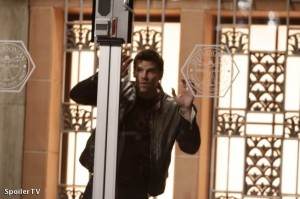 It's a conspiracy theorists dream on tonight's episode of Bones. The age old question is asked, was there more than one shooter the night that President Kennedy was shot. The show starts off in typical Bones fashion. Booth is in Brennan's office trying to convince her that she needs to eat and that the cheese on the pizza is a spitting image of the late Michael Jackson ( I didn't see that). Brennan looks confused as usual and Booth does his best Michael Jackson impersonation. He moonwalks out of her office telling her that he will see her Monday.
A panicked Cam walks into Brennan's office holding a home pregnancy test. Cam asks her if she is by chance pregnant. Brennan reminds her that she hasn't been in a sexual relationship in a while so that would be impossible. Cam tells her that the only people that have used the bathroom were her, Angela & Brennan. She realizes that Michelle had visited earlier in the day. She immediately jumps to the conclusion that Michelle must be pregnant. After going to Angela's office to ask her if she is pregnant she is thoroughly convinced that Michelle must be the one who is pregnant. Cam is devastated.
Angela later goes into Cam's office to tell her that the pregnancy test that she found was actually her's. Angela is pregnant with Wendall's baby. Though Cam is relieved that Michelle is not pregnant, she is worried how Angela is taking the news. Angela is understandably scared; it was something she was not prepared for.
Agents from the Government Service Agency walk in and take the lab hostage. They tell Cam & Dr. Brennan that they are to determine cause of death on an unidentified set of remains. Sweets calls Booth to tell him that the entire team is being held against their will at the lab. He is immediately concerned for his people. (Yes, that made me all kinds of happy when he said that). Booth does what he does best and gets himself thrown in the middle of the mess. He shoots one of the glass doors and is immediately tackled by the men in black. Brennan was worried when Booth hit his head, and frankly so was I. I don't like it when Booth hits his head; it brings back bad memories from last season's season finale.
Booth asks Brennan if they have identified the remains. They tentatively identify the remains as those of President John F. Kennedy. The team immediately goes to work to determine if there was another shooter that night. They run an experiment using two cantaloupes and a replica of the gun that was used by Lee Harvey Oswald. Booth tricks the mysterious Mr. White into giving him his sidearm to run the experiment. What he doesn't know is that they have the replica gun and Booth accurately shoots the two cantaloupes. Brennan is pleased. I don't know if you ask me, there is something hot about Booth and a gun…maybe she feels the same way. Mr. White threatens Booth with ending his career after the case is over. It's been a while since Booth's career was threatened, so I didn't take this seriously.
Hacker calls Booth and tells him that there is a judicial committee considering re-opening the case of President Kennedy's assassination. Hacker is annoyed that a member of the FBI is being held against his will. He tries to be the hero at the end, but he can never compete with Booth. Booth single handedly takes down all of the men in black to give Brennan the time she needed to complete her evaluation. Hacker walks in too late, he is not the hero and I notice that he is none too happy about that.
Brennan proves to Booth that the bones are not those of President Kennedy. He thanks her by hugging her and once again they are interrupted. Hacker tries to flirt with Bones in front of Booth; I think he was annoyed, I know I was.
The aww moment of the episode goes to Hodgins. Angela tells him that she is pregnant with Wendall's baby. She knows that she should tell Wendall first but she felt that she had to tell Hodgins first. Angela tells Hodgins that she is not sure if she wants to keep the baby. He tells her that she knows that she has always wanted a lot of kids. He tells her that he is going to be behind her 100 percent and that he knows that she will let Wendall off the hook because he is a struggling grad student and she would feel bad saddling him the responsibility of a baby. He tells her that he is always going to be there for her. What a stand up guy, his ex is pregnant by another man and he is still willing to step up and be there for her. Why these two ever broke up is beyond me? Cam tells Angela that it was a false positive. Angela and Hodgins leave the lab arm in arm. Looks like someone may be reconsidering her relationship with a certain intern.
Cam thanks Brennan for not telling Booth the truth. She knows that it would have crushed him to know that truth. Booth and Brennan walk arm in arm. She tells him that she is impressed that he wanted to know the truth even if it hurt him; he tells her that he learned that from her. In yet another tease they walk away arm in arm leaving us to wonder if and when these two will ever get together.
Each episode of Bones this season has left me wanting more and more. Thank you Hart Hanson and company for leaving me with a longing every Thursday night. Great job, looking forward to see what the rest of the season holds.