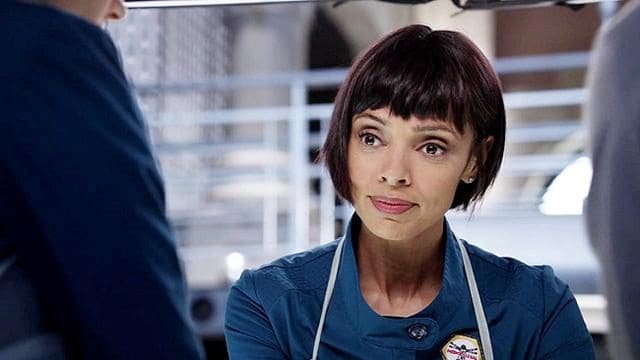 Tamara Taylor has been around television dating back to 1991 when she had an uncredited role in A Different World.  Currently she plays the role of Camille on FOX's hit series Bones.  Her career took off when she landed a series regular role on Fox's Party of Five. Since then she has appeared in Steven Bochco's City of Angels, Hidden Hills, Lost, Numb3rs, CSI: Miami, NCIS,  as well as appearing in films.  She also had a role in Serenity, the movie spin-off of the cult hit Firefly.
She made her film debut in the Wayans brothers' romantic comedy Senseless. Within a year, she starred with Halle Berry in Introducing Dorothy Dandridge and in Tyler Perry's box office hit Diary of a Mad Black Woman.  From what we know, Tamara loves the beach, hiking, movies, books, and her two chihuahuas, Bruno and Miss Pixie.
But what about the Tamara we don't know?  Here are six things you might not know about Tamara Taylor:
Tamara is Canadian
Chalk another one up to our friends up North for bringing us such a talented actress.   Taylor was born in Toronto.  Her mother is Scottish Canadian, and her father is African Canadian.  She dropped out of high school to try modeling and see the world, with her mother supportive of her decision: "School will always be there, she told me."
Second Cousin to Neve Campbell
As you might recall, Neve Campbell was the real start of "Party of Five."  Turns out the two are second cousins and appeared on the show together.  Though we haven't really seen Neve Campbell too much these days have we?  Looks like Tamara has outlasted her relative when it comes to television and movies.
She is Divorced
Tamara married attorney Miles Cooley in 2006 but the couple divorced in May, 2012.  The couple exchanged vows on a Mexican beach on June 10. During the ceremony, held at the Hotel Esencia on the Riviera Maya, the bride wore a red sari embroidered with crystals and beads. The Los Angeles-based couple got engaged in April of 2006 after Cooley proposed with a diamond solitaire ring.
Net Worth
Tamara Taylor's current net worth is estimated to be $4 million.   While she's never been a leading lady on film or television she's managed to make quite a consistent career for herself, not to mention a good living in the process.
She has a fear of elevators
This is a direct quote from Tamara: I recommend people develop a fear of elevators, like I have. Even if something is on the tenth floor, I'm walking up. If you don't have claustrophobia, pretend you do and take the stairs everywhere! It ends up being so healthy!
Drop and give me 20!
Every night before bed, Tamara drops down to the floor and will do 20 sit-ups, 5 push-ups and stretching. No matter what the day has been like she will consistently do this day in and day out.