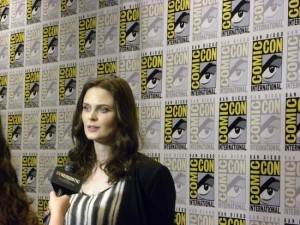 Season 7 of Bones left us with one heck of a cliffhanger: after being set up for murder by Pelant, Brennan made the choice to flee town with her baby daughter Christine. Unable to pin the crime on Pelant himself – as he had successfully managed to plan the 'perfect'crime – her colleagues and Booth were unable to clear her name so, under the advice of her father, she fled.
Stars David Boreanaz and Emily Deschanel and Executive Producer Stephen Nathan came to Comic-Con to tease season 8 of Bones, including Brennan's journey back to Washington and what's in store for the characters next year.
Change of State. When Bones returns in the fall, three months will have passed since the events of the finale. Booth will have been taken off the Pelant case and stuck behind a desk by his superiors. The Bureau will be interrogating Booth, trying to get Brennan's location. They're fixated on tracking down Brennan, as all of the evidence points to her. 'Everyone [including the Jeffersonian team] has been finding a way to get her back, to clear her, and they've been thwarted at every turn,'Stephen said. 'Booth can't take it anymore. He's angry enough that he can no longer be a good boy.'Ultimately, 'Brennan will be back quickly, but not easily.'
Booth's Feelings. 'Deep down, I think he understands [Brennan running], but he didn't get to hear about it from her,'David explained. 'When he does finally find her, it will take some time to really understand why she did what she did'but he believes Booth will forgive Brennan.
New Tone. Look for the first episode to be more morose than usual, with less humor. While the show will take on the regular Bones tone again, the overall season will be a bit darker than usual.
Family Matters. Ryan O'Neal will be in the season 8 premiere and the writers want him back throughout the season. '[Brennan] is depending upon her father to give her the same life she hated. They've been hiding and running,'Stephen explained. As for other family drama, Cam will still be having issues with her daughter and the writers and David definitely want to introduce Booth's mother to the show.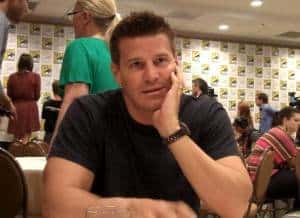 Pelant is Down, But Not Out. Even after Pelant's set-up of Brennan is dealt with, the criminal mastermind will still be lurking around. 'We have a villain this season that we've never really had before,'Stephen explained. 'Our people have always been one step ahead of every criminal, but now we have a criminal who is one step ahead of them. Pelant will stay with us throughout season 8 and he will be a cloud that hangs over the heads of everyone at the Jeffersonian. He'll come back in ways we don't expect.'
Relationship Drama is Brewing. Brennan's flight from Booth last season – and what will come of that – isn't the only relationship drama that will pop up in season 8. All of the couples will be facing some hurdles. '[We're going to] throw a monkey wrench in a lot of relationships. All relationships are tested,'Stephen explained. Sweets will meet a new FBI woman that could affect his relationship with Daisy. Angela will be meeting an artist who will make her look at the decisions she's made in her life. After all, her job at the Jeffersonian was only supposed to be temporary, but now she's settled into a whole new life. Her connection with this artist could impact her relationship with Hodgins. Cam seems to be the only character who may not encounter relationship drama. In fact, she'll be embarking on a new relationship with a character that we have seen before (not Paul), and their relationship may surprise you. 'This is a season where we see whether [the characters] can survive what happens to them. This is kind of a '˜is love enough?'season,'Stephen explained.
Bonus Episodes. The four episodes shot last season will be airing throughout the season and will be staggered in terms of the schedule. Stephen said that they're slightly differently from the usual Bones episodes. There is one episode that is told entirely from the perspective of a skull, Emily teased.
Bones returns for its eighth season on September 17, 2012 at 8:00 p.m. on Fox.
Watch a preview with footage from season 7 and season 8 below. This footage just aired at Comic-Con.