In anticipation of the rapidly approaching Bones season 8 premiere (read some teasers from the episode), executive producers Hart Hanson and Stephen Nathan fielded questions from reporters about what we – and the fans – can expect to see this coming season.
Booth and Brennan Reunion.  The couple have a very physical – and pretty joyful – reunion after being separated for three months in the season premiere, but it wasn't the one that was originally written.  Apparently the actors asked if the couple could go even further – and more physical – with the scene, upping the overall energy of the reunion.  Stephen said they had to ask themselves "how mad is Booth at Brennan, how anxious are they to see each other, and how does this manifest in one split second?  We were happy they broke furniture."  Despite the fact that Booth seems remarkably understanding about Brennan going on the lam with their daughter to escape arrest, there are some feelings of unease inside of him.  "Initially you're very happy to see somebody, but the three months of being abandoned, essentially, doesn't go away," Stephen warned.  "In the second episode we'll see some evidence of that."  Not everything can simply go back to how it was like before.  Everything has changed just a little bit.Â
Pelant's Role and the Season Arc.  No matter how the season premiere ends – and believe us, it's quite the ending – Pelant will be sticking around all season.  He'll come and go, Stephen said.  "We love this guy.  He's just the most interesting, multi-murderer that we've had on the show.  No one is going to be able to rest easy in season 8".  The twist at the end of the season premiere was a natural extension of Pelant's storyline, Hart said.   And it will leave the fans with a lot of questions.  But the show does want to get back to the basics and will be focusing more on trying to do great murder stories this season than they have in the past.  Yet, the show's characters have had their personal lives altered by Pelant's actions and Brennan's absence.  They won't be dealing with the Pelant threat in every episode, but it will be hanging over their lives.Â
Keep an Eye on Flynn.  I won't spoil the season premiere ending for you, but I will warn you to keep an eye on FBI Agent Flynn, who takes over the search for Brennan.  His motivations are a bit cloudy and the producers promise that there's an arc for him that is complicated and fun.  "Is he good or is he bad?" Hart questioned.  That's something we're eager to find out!
Future Seasons. Despite star David Boreanaz's tweets earlier this summer about how long he planned to stick around Hart and Stephen said that the stars are currently negotiating with the studio at least through season 9 and they're pretty confident both sides will come to an agreement. Hart said that David is a mischievous guy. "[Teasing fans is] all part of the game to him. I don't think there's any serious angst or bile behind it."
Family Members.  Hart and Stephen have been wanting to introduce Booth's mother to the fans for a while now and they're interested in doing so in the "back 9" episodes of season 8.  Her storyline is one they're brainstorming about, but they would definitely want to see her meet Brennan.  In addition, Brennan's father Max will return after the season premiere and the producers hope to have Booth's grandfather return.  Hart also says that they are even looking at potential storylines for Hodgins' brother.Â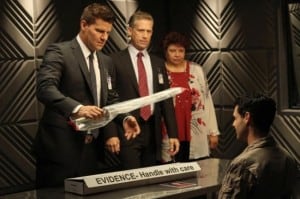 Squinterns.  Expect to see the Jeffersonian interns on a constantly revolving loop once again this season.  According to Hart, this scheduling just works for them.  Stephen says that we will be meeting new squinterns at some point this season and we'll also be revisiting some we haven't seen as much of lately.Â
150th Episode. The milestone episode will take place in season 8 and Hart warns that it's going to be a "weird episode. It's going to be an episode where we see everything from the point of view of the victim. It's been very tricky to shoot because it could be claustrophobic and we need a very heart-tugging story so that the person whose death we are solving is an actual character. It's a boy. We don't usually use kids because we can't laugh. It's not a funny episode. It's an outsider's view of our team at work". The episode will show something that is rarely seen on Bones:Â how the characters interact with a victim when no one else is looking. Cyndi Lauper is in the episode as the show's resident psychic who knows the victim is watching and who is trying to help find out what the victim needs so they can move on. Don't presume that the victim needs closure regarding their murder, because what he needs is actually something else. It will be a very unique episode that was a "challenge to put together," Stephen said. But everyone – from the writers to the actors to the production crew – came together to produce a terrific episode.
Episode 8.05.  This episode will reveal Cam's new boyfriend, who is someone that Hart says the fans will know.  "It's not a brand new person and it's someone the fans will recognize/  But if we're good, [the fans won't] see it coming."  The episode also deals with Brennan and the squints going up against someone whose entire life is dedicated to eliminating evidence, while their life is about discovering evidence.  "It's spy versus spy," Stephen hinted.
Bones returns for its eighth season on Monday, September 17 at 8:00 p.m. ET/PT on Fox.