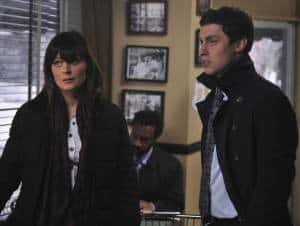 On March 17, the infamous "Booth and Brennan trapped in an elevator" episode of Bones will air. The set-up is simple. The Jeffersonian team will be investigating a potential viral outbreak. Unfortunately, there's a huge blizzard overtaking the city, which leads to a city-wide blackout. This complicates matters for the team, of course, but also for Booth and Brennan. It looks like Brennan and Sweets are called upon by Booth to help him move some stadium seats into his apartment. When the blackout occurs, Booth and Brennan are stuck in the elevator, while Sweets is outside but ready to offer assistance.
Sweets, unfortunately, initiates a conversation about Booth and Brennan's relationship, which causes the situation to become a bit uncomfortable. Add to that the fact that the pair is also trying to help the Jeffersonian team solve the case via cell phone. Will Booth and Brennan finally overcome their hurdles and start a relationship?
Wendell Bray will be back in this episode and he and Hodgins will team up to help identify the victim and his rare disease. Hodgins, meanwhile, will become understandably upset when he and Angela get some worrisome news about the health of their baby.
Below are promo photos for the March 17 new episode of Bones. You can also view photos for the March 10 episode that we previously posted, which features the return of Broadsky the sniper.
[imagebrowser id=909 template = flipped]
clarissa @ tvovermind.com
twitter.com/clarissa373
twitter.com/tvovermind