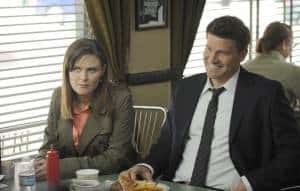 Ryan O'Neal returns for the season finale of Bones, airing on May 19.
After the grim episode that's airing this week – which features the return of Jacob Broadsky and could result in the death of one of the characters – the Bones season finale looks like a lighter episode.
The remains of a male bowler are found jammed into the pinsetter of a bowling alley. O'Neal returns as Max Keenan, who happens to be the victim's bowling teammate. But he's currently not playing because of an injury. After hitting several dead ends, Booth and Brennan decide to go undercover. They join the extremely competitive bowling team in order to learn more about the victim.
After meeting the victim's various teammates, they realize that there's no shortage of suspects (including the 12 year old bowling prodigy who is a teammate).
Angela, meanwhile, suspects that she'll go into birth at any moment. But she's an incredibly dedicated member of the team and works by webcam to help identify the murder weapon while waiting in the hospital.
Below are promo photos for the season finale of Bones, airing May 19. Don't miss an all new episode of Bones this week on May 12. You can also view promo photos and a trailer for this week's episode.
[imagebrowser id=1015 template = flipped]
clarissa @ tvovermind.com
twitter.com/clarissa373
twitter.com/tvovermind