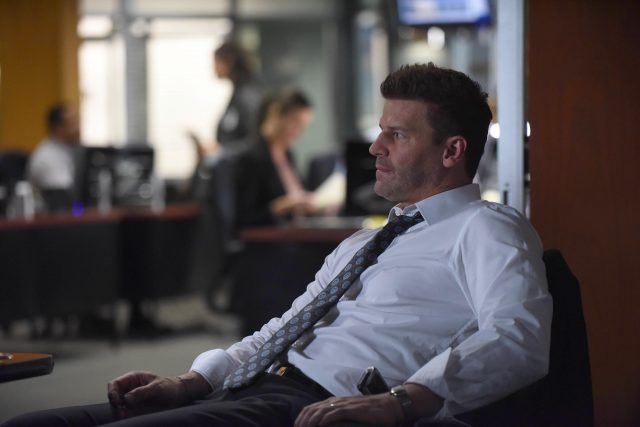 Nothing says love like death, decay, and conspiracy on Bones. This Valentine's Day wasn't all about hearts and flowers, except in the way that they foreshadowed certain death. The reason for the target on Booth's back is getting clearer, with more innocent people being killed in the process. Booth has already lost one close friend this year, and the stakes are only getting higher. This time it's not just Booth's friends who are affected, but his family.
This week's case is that of a lonely, elderly woman tortured to death. The poor old woman's violent end had absolutely nothing to do with her and everything to do with her delivery man, a member of Booth's ranger unit, who is also missing. All of this connects to Booth's assassination of a Serbian war criminal over twenty years ago. Booth manages to track down the war criminal's son locally. Booth recognizes him almost immediately since Booth shot his father right in front of him. The problem is that Mark Kovac seemed to have turned his life around after he was adopted and served in the U.S. military with distinction. Caroline and Aubrey are suspicious of anyone who is too good to be true, and even Brennan isn't waiting for solid evidence when her children are in danger.
Viewers have known for awhile that Max has been keeping some health issues under wraps from his daughter. We all know how Bones feels about secrets, even ones meant to protect her. She's very much aware of mortality, so it makes sense that she would be upset with her father for keeping his health problems from her. Luckily Max's pacemaker keeps him healthy long enough for him to take care of his grandchildren in a safe house. Unfortunately, the very thing that has been keeping Max alive puts his entire family in danger.
While Booth is interrogating Mark (who claims he is being framed), his children are attacked, and Max is fatally wounded protecting them. It was clear that Max wouldn't survive Bones's final season, and it seems fitting that he died the way he lived. Max Brennan spent most of his life running because it was what he had to do to protect his family. Those instincts saved his children, and now his grandchildren. You couldn't ask for more from a father than that. Though the rift that will almost certainly develop between Booth and Brennan as a result of Max's death will be the couple's toughest challenge yet.
RIP Max Keenan, and hats off to Ryan O'Neal for 11 years of wonderful work.
Bones Season 12 Episode 7 Review: "The Final Chapter: The Scare in the Score"
Summary
Bones loses a beloved family member because of a vendetta against Booth.