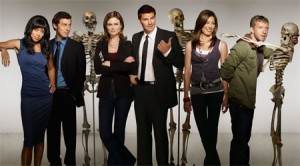 The season finale of Bones is getting closer and closer, and most fans are wondering what has happened to the character stories we all know and love.
I just wanted to weigh in and share some spoilers for the rest of the season.
The main questions fans have been asking revolve around Bones and Booth hooking up, and Angela and Hodgins' relationship.
Read on to find out what these characters have coming up for the rest of the season.
Angela and Hodgins sign on for a computer dating service only to find they are a perfect match
Stephen Fry will return as a guest star
Brendan Fehr will make a return as Booth's brother Jared (orderly queue ladies)
Brennan asks Booth to father a child for her (and we call her rational!)
Booth will have a health crisis resulting in hallucinations, with a guest appearance from none other than Stewie from Family Guy, hmm
Booth and Brennan will be sharing a bed in the season finale(uh-oh)
We will learn that Dr.Sweets had a worse life than we thought pre-adoption
We will meet Booth's father either late this season or early next season
Source : Spoilerfix Zap2It's Korbi TV EW