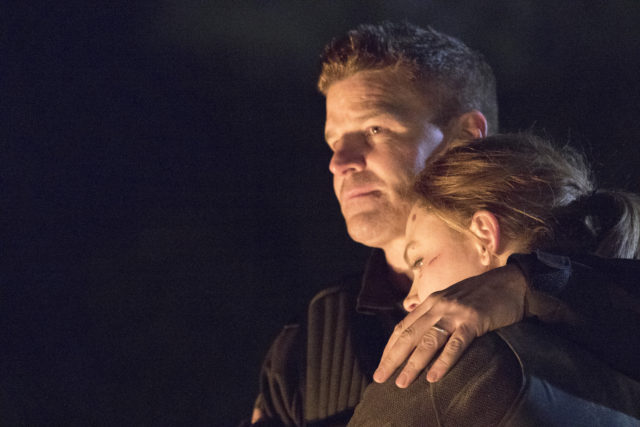 After twelve years of crime solving, Bones has officially signed off. All in all, the series finale did a good job of tying up everyone's stories in preparation for the next chapter of their lives. At the same time the show paid tribute to some of the best moments of the show, either by sharing memories or through physical representations of those moments we wish we could buy. Let's recap the best of the series finale and you be the judge.
The only reason Booth, Brennan, Hodgins, and Angela wake up with nothing more than cuts and bruises is because Booth managed to disarm one bomb under the platform. Once it is established that everyone seems to be physically alright, it is that much more frightening to hear Brennan say something is wrong with her. Just before the explosion Brennan knew how to find Kovac, but her mind is severely rattled by the explosion. She even struggles with her own method for finding the heartbeat for Angela's baby (don't worry, the little guy is okay). Once Search and Rescue extracts everyone from the lab, Brennan immediately wants to go back in, despite the fact that the part of her brain responsible for processing complex information has been compromised.
With her family's lives on the line, Brennan isn't going to give up that easily. She calls in every single one of her interns, even some who proudly have their own departments now, to help sort through over 200 sets of remains. Finding the body Brennan was working on is the priority, but the interns have to help their mentor find her way back to the brilliant forensic anthropologist she is. Their presence is invaluable to solving the case, but they can't remind Brennan of who she really is. Booth has to be the one to help Brennan realize she is so much more than her intelligence. She is a wife, a mother, fun at undercover work, kind and loyal to her friends, and we could go on with all the ways Brennan is great.
To Hodgins's delight, Angela listened to her paranoid, conspiracy theorist husband and backed up all of her data on her version of a black box. By looking through photos from Cam and Arastoo's wedding, Angela is able to find the person who stole Cam's ID to plant the bomb. Angela's brilliant husband finds DNA evidence that proves who planted the bomb, and it wasn't Kovac. As far as plans go, pretending to be husband and wife when you are actually a murderous brother-sister duo to fool the FBI is pretty brilliant, if Janine and Mark Kovac weren't up against the Jeffersonian. It's up to the interns to be Brennan while Brennan isn't herself. They come through so well that Brennan and the FBI are able to track down Kovac. The high pressure situation shakes something loose in Brennan's brain so that she is able to help Booth, who kills Kovac to save them both.
The more things change, the more they stay the same. While the Jeffersonian rebuilds, some changes are going to be made. Aubrey is able to take the same promotion he was offered in Los Angeles, but in D.C. While he and Jessica do not have a future, he might have one with another certain redhead who likes profiling and fried chicken. We get physical reminders of some of the best Bones moments when the Jeffersonian has to pack up their things for the remodel. Is anyone else seriously interested in buying that children's book Angela and Hodgins have been working on? Cam and Arastoo are about to embark on the next chapter of their lives: parenthood, as they will be adopting three boys. While Cam is away settling into a new family life, Hodgins will actually be taking over her position. Of course Hodgins would be made "King of the Lab"! It wouldn't be a proper series finale without mention of Sweets. His book on Booth and Brennan's relationship is also something I'd be interested in buying. Finally, the series concludes with somewhat of an explanation on the 4:47 significance. It is the time that the bomb went off, and the time Brennan will remember as the moment she could have lost everything, but didn't.
Was the Bones series finale a satisfying conclusion?
Bones Season 12 Episode 12 Review: "The End in the End"
Summary
Bones' series finale is a satisfying tribute to fans who have spent twelve seasons with Booth and Brennan.