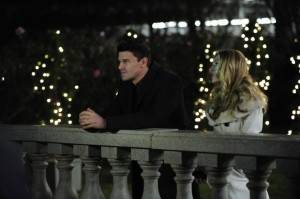 An all new episode of Bones will be airing on February 10. We've previously posted promo photos for this episode (view them here), but now FOX has released four sneak peeks, which we have for you below.
In the episode, Booth, Brennan and the squints investigate the death of a BMX racer. At first, it appears that the death was due to a failed stunt, but then Booth and Brennan start investigating other riders in the circuit. Squintern Fisher (Joel David Moore) returns to help Hodgins uncover evidence from the remains.
Sweets goes to Booth to ask for relationship advice about his relationship with Daisy. This prompts Booth to make a decision about his own relationship with Hannah. Is this the end of their relationship? Will this pave the way for a Booth/Brennan relationship? Or will he take the plunge into marriage with Hannah? Will the fans revolt if that happens? Inquiring minds want to know!
If you hadn't heard, FOX has created an iPad app for Bones, which will help enhance the viewing experience of the show. Additional information about the features of the app can be found here. The app's features kick in for the February 10 episode.
Check out the four sneak peeks below from FOX and make sure to tune into an all new episode of Bones on February 10!
clarissa @ tvovermind.com
twitter.com/clarissa373
twitter.com/tvovermind