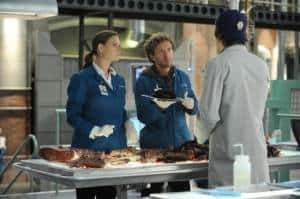 Brennan and Booth's daughter was born in an all new episode of Bones this week and the adorable Christine Angela spent some time with her mother before they both have to head back into the real world. After about a six week maternity leave, Brennan is returning to the Jeffersonian and leaving Christine in the capable hands of the Jeffersonian daycare center. Only she's facing the classic struggle that all working mothers face: baby or job? Except we're talking about Brennan here, so she's not entirely sure why she's feeling conflicted about the whole situation. I think it's great to see that even though she has a baby, Brennan is still Brennan.
In her first case back at work, Brennan investigates the remains of an extreme couponer whose dead body is found strewn all over a highway. Tina Majorino will also be making a return guest appearance as Special Agent Genny Shaw, who helps Booth and the Jeffersonian team investigate the case.
Watch three sneak peeks below for an all new episode of Bones on Monday, April 9 at 8:00 p.m. ET/PT on Fox. You can also watch a preview for the episode here.
Don't forget to check out our recent article with spoilers for the rest of the season.