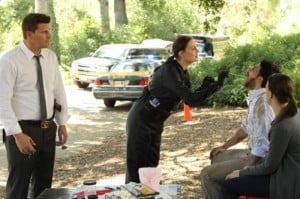 It looks like Brennan's caught political fever in next week's episode of Bones.  One morning Booth wakes up to discover that Brennan has set out a pro and con list surrounding her decision to run for president.  Of course she'd made a terrific president because, as she points out, she's completely brilliant.  Booth tries to temper her expectations and remind her that she spent time as a fugitive, so she might not win the nomination.
Later, she and Booth head out to a crime scene and eventually delve into the world of animal trafficking and debating the merits of zoos (Booth is pro-zoos because they're fun, but Brennan is anti-zoos because of animal captivity).
Sweets also has some big news to announce: he and Daisy are moving in together.  Watch four sneak peeks below from the October 8 episode of Bones. 
Enter our Bones contest for a chance to win season 7 on Blu-ray.