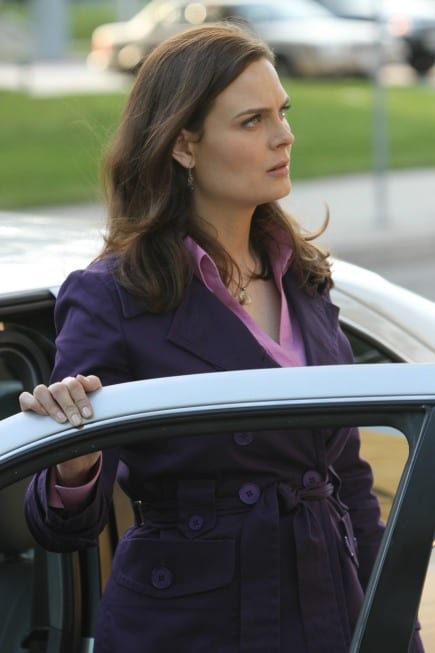 Brennan's on the run in the season 8 premiere of Bones.  After being framed for murder by Pelant in the season 7 finale and being unable to find a way to implicate him instead, Brennan chose to take Christine and – with her father's help – ran from the FBI. Back home, Booth has been taken off the case, as has Sweets.  Here's what we know about the new season:
Season 8 will begin with Brennan on the run with her father Max (guest star Ryan O'Neal) as a fugitive both from the law and serial killer Pelant, while Booth is restricted to administrative duties at the FBI. In addition, Sweets has been removed from the case, as has Federal Prosecuting Attorney Caroline Julian (guest star Patricia Belcher). What's more, due to Pelant's technical savvy, Booth and Brennan will communicate with each other in only the most rudimentary ways, not only to try to prove Brennan's innocence but – with the help of Cam, Hodgins, and Angela – to place the blame where it belongs, on the murderous Pelant.
For more information, check out our coverage from the Bones Comic-Con press room and panel.  Meanwhile, Fox has released its first real preview for the season, which you can enjoy below.  Blonde Brennan!  Booth take-down!  Season 8 looks like it's going to be intense!
Don't miss the season premiere of Bones on Monday, September 17 at 8:00 p.m. ET/PT on Fox.