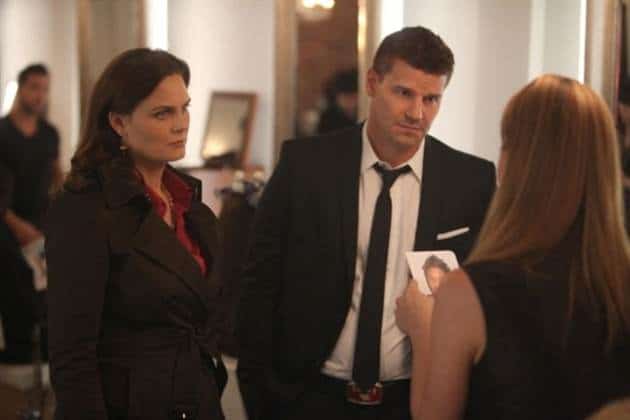 Brennan is going through the same thing many new mothers go through: post-pregnancy body issues. In the upcoming April 16 episode of Bones, Brennan tells Booth that ever since Christine was born, she feels like she's in someone else's body. Booth, who is rather skilled with handling women, decides to be supportive, but doesn't want to get into the middle of the situation. He does, however, ask Cam to make an effort to tell Brennan how lovely she looks. But Brennan realizes what's going on and puts a stop to it. Eventually, though, Booth is able to do something special to help her regain her confidence.
Meanwhile, the case of the week revolves around a body found in a landfill. The corpse is dyed blue, but squintern Arastoo Vaziri discovers a way to eliminate the postmortem damages to the bones. The Jeffersonian team is later able to trace the victim to the hair salon he worked at.
Watch four sneak peeks below for the April 16 episode of Bones, airing at 9:00 p.m. ET/PT on Fox.