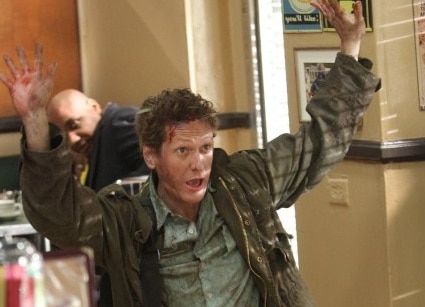 The Jeffersonian is getting a new squintern on this week's all new Bones, but the first meeting between Brennan and Dr. Oliver Wells isn't exactly ideal.
Booth and Brennan are arguing about his awesome new investment opportunity (asteroid mining) when they're called out to a murder site, which, unfortunately, doesn't contain the victim's head.  That's later found by Wells, who doesn't make a good impression on Booth when he approaches Brennan while bloody and dirty in the cafe and presents the head to her.
He's a genius, but his quirky habits confound Brennan.  After a while, however, his theories and habits help open her mind.  But when she proposes time travel as a theory for the newest case, Booth wonders if she's taken her new open-mindedness a little too far.
Watch three sneak peeks below for the February 25 episode of Bones on Fox.