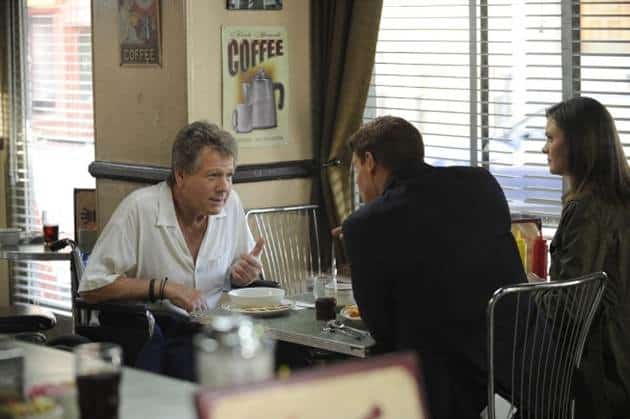 The season finale of Bones will be airing on Thursday, May 19. Unless you happen to live in Canada. If you do, you're going to get to watch it tonight on Global.
But if you have to wait until tomorrow, we have three sneak peeks for you below to tide you over.
The last episode of Bones ended with Booth finally capturing and arresting Jacob Broadsky (a.k.a. The Sniper) after he had gone on a killing spree. Unfortunately, one of his victims included squintern Vincent Nigel-Murray, who's death scene brought a tear to my eye. Also, after the devastating death of their friend, Booth and Brennan fell into bed together and ended up holding hands at the end of the episode. What will this mean for a potential relationship between the pair?
In the Bones season finale, the two are going undercover to catch the killer of a man found in a bowling alley. He happens to be part of the same bowling league as Brennan's father, Max (meaning Ryan O'Neal is guest starring). Angela also goes into labour in the episode.
Bones has been renewed for another season, although next season may be cut a bit short due to the pregnancy of star Emily Deschanel. Also, the Bones spin-off, The Finder, has been added to the midseason Fox schedule.
Enjoy the sneak peeks below, then go take a look at a promo for the episode here, and photos here and here.

clarissa @ tvovermind.com
twitter.com/clarissa373
twitter.com/tvovermind